Bauxite Mining Boom in Guinea Threatens Locals - HRW
A spring that once supplied fresh water to Mabinty's village has been filled with thick mud. Nearby streams have dried up. The landscape, once green and brown, is now mostly rust-colored.
These are the effects of bauxite mining.
The bauxite business is booming. But the government, eager to grab a share of the global market, has done little to protect villagers and wildlife, says Human Rights Watch.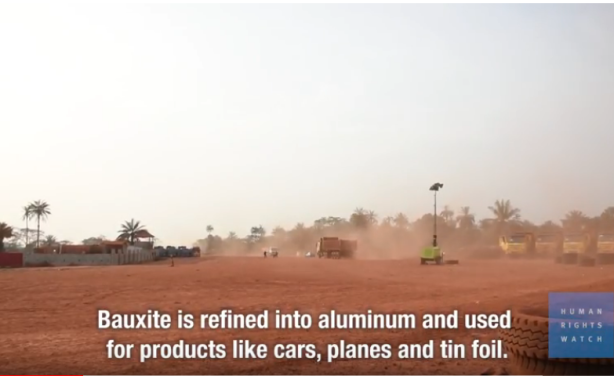 Guinea's fast-growing bauxite mining industry is threatening the livelihoods of thousands of Guineans.
South Africa: Moving the Global Mining Industry Towards Biodiversity Awareness

UNEP, 3 October 2018

UN Environment and partners are working with businesses to highlight the benefits of biodiversity-sensitive best practices in the mining sector. Read more »

West Africa: The Impact of Unemployment and Pollution On Bauxite Producing Communities in Guinea

OSIWA, 8 December 2017

Mining communities across Guinea have been plagued by social unrest, especially in the Boke region where protests, often triggered by the lack of running water and electricity, has… Read more »

Guinea: IFC Invests U.S.$200 Million in Guinea's Bauxite Mining Sector to Support Broad-Based Growth

PR Newswire, 7 September 2016

IFC, a member of the World Bank Group, today announced a $200 million investment package for Compagnie des Bauxites de Guinée, a bauxite mining company in Guinea, that will… Read more »

Guinea: AFC Makes Maiden $205m Mining Investment in Guinea-Conakry

AMA, 6 February 2017

-One of the largest foreign investments in Guinea post the Ebola crisis- Read more »