Pastor Omotoso's Church Shut Down - ANC Women's League
Over 100 people came together outside the entrance of the Jesus Dominion International church in Port Elizabeth on Sunday to demand that the church close shop and that the building is shut down. The church's pastor Timothy Omotoso is on trial for rape and human trafficking. ANC Women's League leader Nomafa Sinetile said that it had been confirmed that the building was zoned for business use and not a church. "The municipality has confirmed that the building is zoned for business use, it is now shut down officially and the service has been suspended," she said.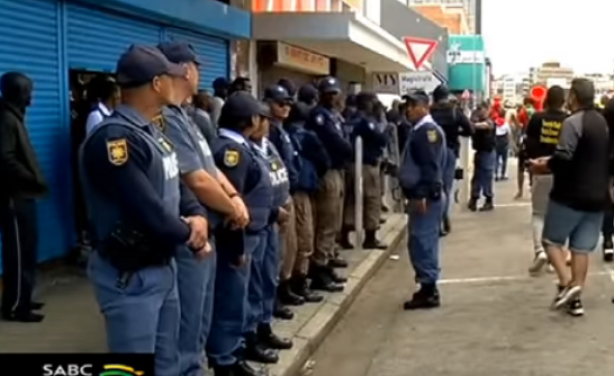 Police outside the Jesus Dominion International Church in Sidwell, Port Elizabeth.
InFocus
Advocate Peter Daubermann has condemned the actions of protesters who chased him outside the Eastern Cape High Court in Port Elizabeth, South Africa. Daubermann is defence counsel ... Read more »

Cheryl Zondi, the first witness in the case against Timothy Omotoso, has testified that she used R300 given to her by the Nigerian pastor to do her hair as means to enable her ... Read more »

Peter Daubermann, defence lawyer for Nigerian pastor Timothy Omotoso, directed very personal questions at Cheryl Zondi during cross-examination, including asking why she returned ... Read more »