Kenyan TV Anchor Maribe Freed, 'Slay Queen' Fiance Remains Behind
Citizen TV journalist Jacque Maribe has been ordered not to take part in interviews related to businesswoman Monica Kimani's murder case which has been set to hearing from June 18-27, 2019. Her fiance Joseph Irungu's application was refused after the court established that he had no known physical address in the country. Justice James Wakiaga described Irungu as a male version of a slay queen as he lived a flashy life with no known source of income.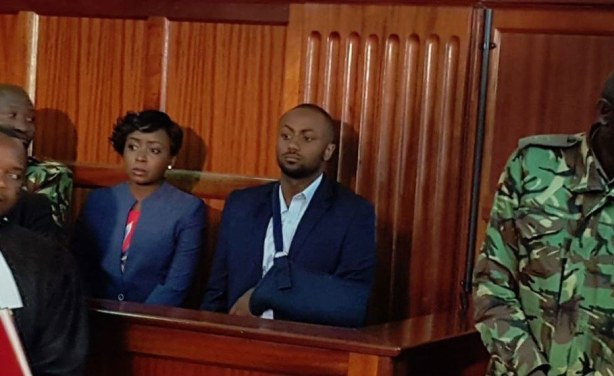 Jacque Maribe and fiance Joseph Irungu in court.
Kenya: Monia Murder - Maribe's Fiance Denied Bail

Capital FM, 30 October 2018

Television journalist Jacque Maribe's ex-fiancé Joseph Irungu alias Jowie was Tuesday denied bail over the possibility of him absconding future court appearances and lack of… Read more »

Kenya: Judge Describes Jowie as a Male Version of a Slay Queen

Nairobi News, 30 October 2018

Judge described murder suspect Joseph Irungu, alias Jowie, in unflattering terms while giving his ruling on bail application. Read more »

Kenya: How Jacque Maribe's 'Influential Friends' Helped Her Get Bail

Nairobi News, 30 October 2018

Journalist Jacque Maribe's influential friends played a big role in convincing Justice James Wakiaga to release her on bail. Read more »

Kenya: Who Was the Wailing Woman in Court After Jowie Was Denied Bail?

Nairobi News, 30 October 2018

A female voice was heard wailing in court after murder suspect in the Monica Kimani case Joseph Irungu alias Jowie was denied bail. Read more »

Kenya: Jacque Maribe Released on Bail, Fiancé Jowie to Stay in Prison

Nairobi News, 30 October 2018

Citizen Television Journalist Jacque Maribe was on Tuesday released on bail. Read more »

Kenya: D-Day for Maribe, Jowie as Judge Rules on Bail Application

Nairobi News, 30 October 2018

Citizen TV news anchor Jacque Maribe and fiancé Joseph Irungu will know their fate today on whether or not they will be released on bond pending trial for the murder of… Read more »
InFocus
Citizen TV anchor Jacque Maribe and her fiancé Joseph Irungu wanted to be released on bail, arguing that they will not interfere with witness or abscond the trial. The two ... Read more »

On October 24, Citizen TV journalist Jacque Maribe and her fiance Joseph Irungu are set to be informed when their application for bail will be heard after spending almost a month ... Read more »

Television journalist Jacque Maribe and her fiancé Joseph Irungu, alias 'Jowie', have pleaded not guilty to murder charges after the death of Monica Kimani. The two will ... Read more »