Oil Mogul Tagwirei Splits Mnangagwa's Govt
Barely three months after polls, President Emmerson Mnangagwa's administration is facing a huge crisis caused by an imploding economy. The meltdown has led to finger-pointing, with businessman Kudakwashe Tagwirei coming under scrutiny for his octopus-like grip on the fuel industry. Now a fierce war is brewing behind the scenes, with Tagwirei driving a wedge between Mnangagwa and some of his allies over the tycoon's unsettling influence.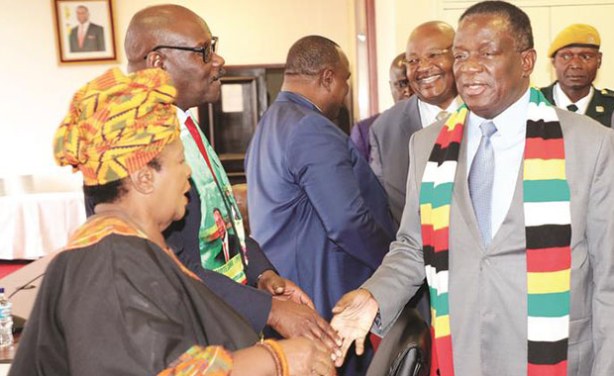 President Emmerson Mnangagwa greets David Parirenyatwa and Cleveria Chizema on arrival at a Politburo meeting in Harare on October 25, 2018.
Zimbabwe: There is No Fuel Cartel - Govt

The Herald, 31 October 2018

Government has deregulated the importation of fuel and reports of the existence of a monopoly or cartel are baseless, Energy and Power Development Minister Dr Joram Gumbo has said. Read more »

Zimbabwe: Two Oil Firms Lose Petroleum Licenses

263Chat, 31 October 2018

Government has with immediate effect withdrawn operating licenses for Zuva and Glow Petroleum which it says have been overpricing fuel. Read more »

Zimbabwe: Govt Withdraws Errant Filling Stations' Licences

The Herald, 31 October 2018

Government has withdrawn service licences for service stations that were charging fuel prices above those recommended by the Zimbabwe Energy Regulatory Authority (ZERA). Read more »

Zimbabwe: Foreign Firms Show Interest in New Fuel Pipeline

The Herald, 31 October 2018

Government is in discussions with two foreign companies interested in setting up a second fuel pipeline connecting Zimbabwe and Beira, the port-city of Mozambique, according to… Read more »

Zimbabwe: No Need to Panic (Buy) Anymore

The Herald, 30 October 2018

The panic over fuel supplies and basic commodities that hit the country in the past few weeks should be a thing of the past as things have slowly stabilised in the country. Read more »

Zimbabwe: Chamisa Says MDC Should Lead Transitional Authority

New Zimbabwe, 30 October 2018

MDC President Nelson Chamisa says he had no wish to work with President Emmerson Mnangagwa but was demanding his right to be the country's leader as per mandate he claims was… Read more »

Zimbabwe: Mnangagwa Speaks On Economic Situation

263Chat, 30 October 2018

President Emmerson Mnangagwa has for the first time spoken out on the prevailing economic situation in the country, saying his government is working to reform and restructure the… Read more »

Zimbabwe: Forex Scandal - Chamisa Speaks on 'Queen Bee' Saga

New Zimbabwe, 29 October 2018

MDC leader Nelson Chamisa has dragged President Emmerson Mnangagwa into Zimbabwe's multi-billion dollar foreign currency scandal which outspoken Zanu PF activist, Acie Lumumba has… Read more »

Zimbabwe: 'Foreigners Fuel Smuggling'

The Herald, 31 October 2018

Foreigners who operate small unregistered shops in downtown areas of major cities in Zimbabwe, are reportedly perpetrating rampant smuggling of basic goods into neighbouring… Read more »

Zimbabwe: Mnangagwa Ally Spills the Beans

Zimbabwe Standard, 28 October 2018

President Emmerson Mnangagwa's advisor Christopher Mutsvangwa yesterday launched an astonishing attack against Zanu-PF benefactor Kudakwashe Tagwirei, claiming that he is now a… Read more »

Zimbabwe: Scapegoating Won't Solve Crisis

Zimbabwe Standard, 28 October 2018

President Emmerson Mnangagwa's claim that social media is to blame for the current economic meltdown has exposed the government's lack of appreciation of Zimbabwe's problems that… Read more »

Zimbabwe: Price Hikes Cripple Farmers

Zimbabwe Standard, 28 October 2018

Farmers are not adequately prepared for the 2018/19 agricultural season, amid indications that most of them are struggling to get necessary inputs such as fertiliser,… Read more »

Zimbabwe: Vaya Lift Ride Service to Ease Fuel Crisis

Zimbabwe Standard, 27 October 2018

Zimbabwean companies struggling with getting their staff to work or going about their daily business requiring transport amid the current fuel crisis will be able to get round the… Read more »

Zimbabwe: Oil Companies Withholding Fuel Risk Losing Licences

The Herald, 19 October 2018

THE Zimbabwe Energy Regulatory Authority (Zera) has warned dealers against deliberately withholding or limiting fuel supplies for speculative purposes, saying culprits risk… Read more »