Drama During Kenya's Certificate of Primary Education Exams
Kenyan students are sitting for Certificate of Primary Education Examinations, an event that never passes without incidents of cheating and other malpractices. This year we've heard of a government official in Kisii County who sent a card with a condolence message, instead of best wishes to candidates in a school in his ward, while a number of candidates in Mombasa and Kwale counties have written their exams from maternity wards after giving birth.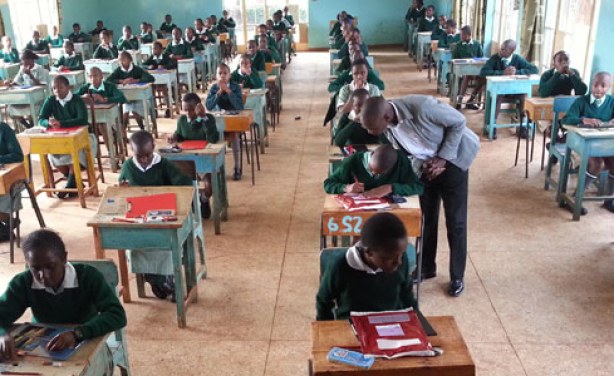 Moi Nyeri Complex primary school candidates sit the KCPE mathematics paper (file photo).
Kenya: KCPE Candidate Arrested, Writes Tests at Police Station

Nation, 31 October 2018

A KCPE candidate in Bomet County is sitting exams at a police station after he was arrested over arson. Read more »

Kenya: Candidates Give Birth, Write KCPE Tests in Hospitals

Nation, 31 October 2018

A number of candidates in Mombasa and Kwale counties are writing their KCPE exams in maternities after giving birth. Read more »

Kenya: Missing KCPE Candidate's Body Found in Laikipia West Dam

Nation, 31 October 2018

The body of a boy, who was to take the national primary school tests from Tuesday, was found in a dam in Matuiku, Laikipia West, on Wednesday. Read more »

Kenya: KCPE Candidate Stabbed on Her Way to School in Tharaka-Nithi

Nation, 30 October 2018

A Kenya Certificate of Primary Education (KCPE) candidate was stabbed in the head while she was on her way to school on Tuesday morning. Read more »

Kenya: 11 Miss KCPE Exams at Shimo La Tewa Prison Over Registration

Nation, 30 October 2018

Eleven candidates did not begin the primary school national examinations with their counterparts at Shimo la Tewa Prison in Mombasa on Tuesday. Read more »

Kenya: Jilted Lover Stabs Female KCPE Candidate Near Exam Room

Nairobi News, 30 October 2018

A female KCPE candidate at Iruri Primary School in Maara Sub County, Tharaka Nithi County was on Tuesday morning attacked with a knife on her way to school by an alleged lover. Read more »

Kenya: Shock as MCA Sends Condolence Card to KCPE Candidates

Nairobi News, 30 October 2018

An MCA in Kisii County is at the centre of controversy after sending a card with a condolence message instead of best wishes to KCPE candidates in a school in his ward. Read more »

Kenya: 5 KCPE Candidates Hospitalised as Exams Kick-Off Countrywide

Capital FM, 30 October 2018

Five candidates have been hospitalised as the Kenya Certificate of Primary School Education (KCPE) examinations kicked off Tuesday morning. Read more »
InFocus
This year's Kenya Certificate of Primary Education examinations is off to a smooth start, with one candidate even giving birth and then writing her mathematics examination paper in ... Read more »