Can the Current Normalcy in South Sudan Last?
Jok Madut Jok, co-founder and director of Sudd Institute, a Juba-based think-tank said "leaders should now use the current peace agreement as an opportunity to carry out nationwide tours to convince the citizens and rebels to end hostilities and embrace unity".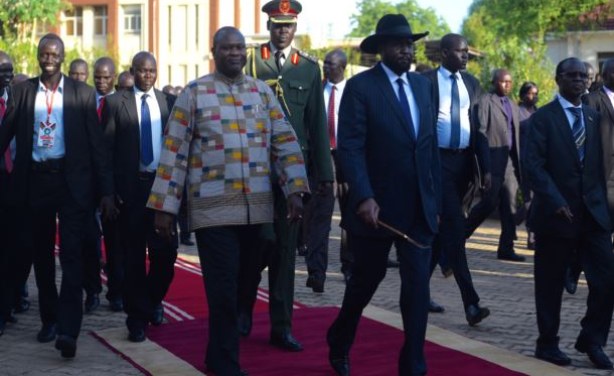 President Salva Kiir (R) and Riek Machar (L).
South Sudan: Machar Returns to Juba for Peace Celebrations

VOA, 31 October 2018

President Salva Kiir publicly apologized to South Sudanese citizens Wednesday for the devastation the past five years of conflict has caused and announced the release of rebel… Read more »

Sudan: Dr. Riek Machar Lauds Role of President Al-Bashir

SNA, 31 October 2018

The leading opposition figure of the People's Movement in the Republic of South Sudan, Dr. Riek Machar, has affirmed his commitment to South Sudan peace agreement, calling on the… Read more »

South Sudan: President Al-Bashir Affirms His Support to Peace in South Sudan State

SNA, 31 October 2018

President of the Republic, Field Marshal Omer Al-Bashir, has affirmed his support to implementation of South Sudan peace agreement for ending the war and return of the refugees and… Read more »

South Sudan: Celebration Underlines Seriousness of Parties , Ambassador

SNA, 31 October 2018

The Director of South Sudan Department at the Foreign Ministry, Ambassador Awadal-Karim Al-Rayah, said that the South Sudan celebration marking the signing of the peace agreement… Read more »

South Sudan: Ambassador Hamed - Peace in S.sudan Affirms the United Will

SNA, 31 October 2018

The Foreign Ministry Peace Administration Director, Ambassador, Hassan Hamed has underlined that the celebration which is organized, todaty, Wednesday, in Juba is a meaage from the… Read more »

South Sudan: Rebel Leader Returns to Juba to Celebrate New Peace Accord

VOA, 1 November 2018

South Sudan rebel leader Riek Machar has returned to the capital of his war-torn land for the first time in two years. Read more »

Uganda: Museveni in Juba for South Sudan Peace Celebrations

Monitor, 31 October 2018

President Museveni has travelled to the South Sudan capital Juba to join other regional leaders for the peace celebration day at the invitation of President Salva Kiir. Read more »
InFocus
Spokesperson Lam Paul Gabriel says opposition leader Riek Machar is leading a small delegation but not bringing his own security despite concerns for his safety. Read more »