Ghana Must Move From Coping With Floods, to Adapting for Them
Ghana has a serious flooding problem. Over about 50 years, 4 million people have been affected by floods, resulting in economic damage exceeding U.S.$780 million. At least one major flood disaster has occurred every year over the past 10 years, writes The Conversation Africa.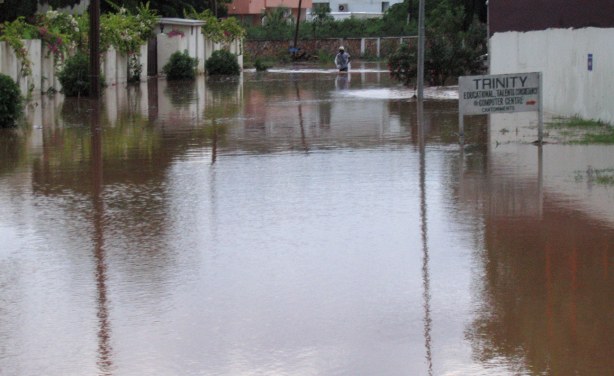 An area in Accra flooded after heavy afternoon rain.
Ghana: 1700 Flood-Hit Families Receive Support in Upper East

Ghana Govt., 29 October 2018

A total of 1,700 flood-hit families in six districts of the Upper East Region have received relief items from the Ghana Red Cross Society (GRC). Read more »

Ghana: IGGS, KAS Push Climate Change Adaptation/Mitigation Agenda in Ghana

Ghana Govt., 26 October 2018

Ghana cannot effectively adapt to Climate Change unless key institutions, such as Government Departments, Research Institutions, Universities, National Disaster Management… Read more »

Ghana: Corporate Ghana Must Invest in Climate Change Mitigation, Adaptation Projects - President, Youth Icons Ghana

Ghanaian Times, 17 October 2018

Financial Institutions especially banks and insurance companies must invest heavily in climate change mitigation and adaptation projects to save the Ghanaian economy, Founding… Read more »

Ghana: Early Morning Downpour Floods Accra

Ghanaian Times, 9 October 2018

Parts of the capital, Accra, flooded again on Monday following a heavy shower which started around 3:00am. Read more »

Ghana: Government Committed to Fixing Imminent Rain-Induced Flooding in Accra - Minister

Ghana Govt., 17 April 2018

The Ministry of Works and Housing, in association with the Hydrological Services Department and the Accra Metropolitan Authority (AMA), has laid out urgent plans to arrest the… Read more »
InFocus
Salma Okonkwo, the head of the UBI Group, a multi-million-dollar oil and gas company, is building Ghana's largest solar farm. It is due to open in March 2019, supplying 100 ... Read more »

Eight cities - from Accra to Dar es Salaam - pledged this week to deliver their share of emissions cuts needed to meet Paris Agreement targets to limit climate change. "We ... Read more »