Leaked Reports Show Why Train Security Has Failed in South Africa
The leaked reports substantiate previous investigations by the Public Protector, Auditor General and National Treasury. They reveal that hundreds of millions of rands have been spent by Passenger Rail Agency of South Africa on dodgy security contracts.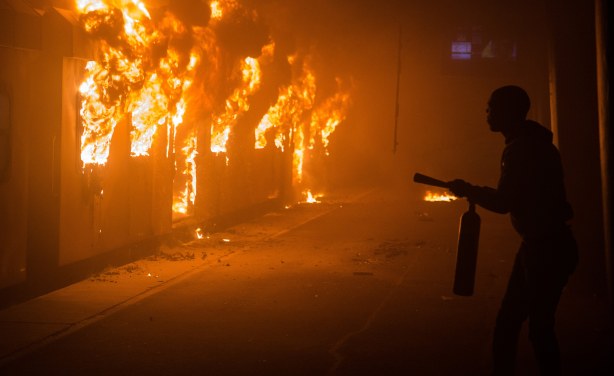 A train burns at Cape Town station in 2017. Security on Metrorail has collapsed over the past few years.
South Africa: Germiston Train Fire - Metrorail Suspects Arson

News24Wire, 16 October 2018

Arson is suspected to be the cause of a train fire at the Germiston Station on Tuesday morning. Read more »

South Africa: Search for Train Arson Attackers Must Be Intensified - Nzimande

News24Wire, 9 October 2018

Transport Minister Blade Nzimande says that efforts must be intensified to find the culprits behind train attacks, following yet another arson attack at Cape Town train station on… Read more »

South Africa: As Another Train Burns in Cape Town, MPs Ask - What Are Prasa's Plans for Today?

Daily Maverick, 10 October 2018

After the burning of several Metrorail trains in Cape Town, the embattled Passenger Rail Agency of South Africa laid out plans at Parliament on Tuesday to stabilise the… Read more »

South Africa: Train Attacks - Prasa to Brief Parliament On Its Strategy

News24Wire, 9 October 2018

The Passenger Rail Agency of South Africa (Prasa) is expected to brief Parliament's Portfolio Committee on Transport on Tuesday on its strategy for dealing with attacks on its… Read more »

South Africa: No Takers Yet for R100 000 Reward for Cape Train Arson Info

News24Wire, 1 October 2018

The Western Cape government's offer of a R100 000 reward for information that will put train arsonists behind bars has not been claimed yet, Community Safety MEC Dan Plato said on… Read more »

South Africa: Building, Transport Fires On the Increase in Cape Town

News24Wire, 16 September 2018

Building and transport fires in Cape Town have increased in the last year, the City said on Sunday. Read more »

South Africa: Govt Offers U.S.$7,400 Reward for Capture of Train Arsonists

Govt of SA, 6 August 2018

Joint Statement by Helen Zille, Premier of the Western Cape, and Dan Plato, Western Cape Minister of Community Safety Read more »
InFocus
Rail operator Metrorail has released statistics revealing that very few of its Cape Town trains actually run on time, and at least 40% of scheduled trains are non-operational. Read more »

The City of Cape Town intends to take over management of Metrorail in order to expedite a plan by the National Department of Transport to modernise the rail service, Mayoral ... Read more »