Calls Made for Investigation Into Shiite Deaths in Nigeria
Human rights groups have called for an investigation after at least 44 members of the Islamic Movement in Nigeria were killed in clashes with security forces during their annual walk, while protesting against the continued detention of their leader, Ibrahim El-Zakzaky. Experts have warned the government that a heavy-handed response to the group risks sparking conflict in a volatile region where poverty is widespread.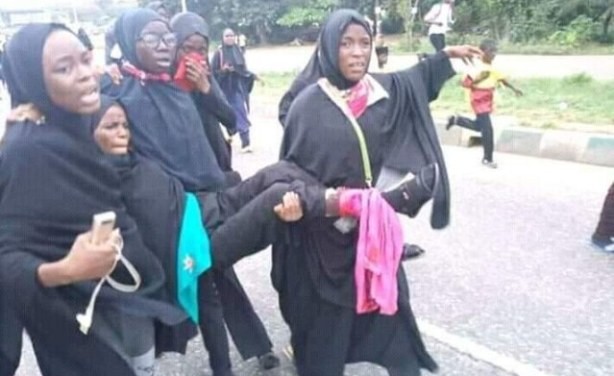 Shiite members wounded in the clash.
Nigeria: The Military Took Away Majority Of Their Victims to Undisclosed Locations

Islamic Movement of Nigeria, 2 November 2018

In a desperate attempt at hiding the exact number of victims of their savage actions on Monday the 29th of Oct. 2018, the Nigerian army retrieved majority of those they shot dead… Read more »

Nigeria: Buhari Is Carrying Out Will of God for Nigeria, Says Islamic Cleric

Vanguard, 31 October 2018

An Islamic Cleric, Imam Kamarudeen Salawu has said despite the various challenges confronting the Nation, the present administration of President Muhammadu Buhari is carrying out… Read more »

Nigeria: U.S. Demands Probe Into Killing of Shiites

Guardian, 2 November 2018

The United States Embassy yesterday asked the Federal Government to investigate the recent killing of members of the Islamic Movement of Nigeria (IMN), also known as Shiites. Read more »

Nigeria: Police Arraign 130 Shiites for Alleged Breach of Public Peace

This Day, 2 November 2018

The Nigerian Police Force thursday arraigned about 130 members of the Islamic Movement of Nigeria (IMN), before a Magistrate Court of the Federal Capital Territory (FCT) over an… Read more »

Nigeria: We're Not Terrorists, Shiites Tell Nigeria Police

Premium Times, 1 November 2018

Members of the Islamic Movement of Nigeria (IMN) have responded to statements credited to Nigerian police tagging them as terrorists. Read more »

Nigeria: Buhari Owes Shiites Justice, Not Massacre

Guardian, 1 November 2018

Even in its twilight, the President Muhammadu Buhari's administration remains impenetrable to the simple logic that democracy is leavened by the disparateness of opinions. Read more »

Nigeria: Amnesty International Condemns Killings of Shiites By Soldiers

Premium Times, 31 October 2018

Foremost rights group, Amnesty International, has condemned the killing of dozens of Shiite protesters by the Nigerian Army. Read more »

Nigeria: Untold Story - How Nigerian Soldiers Killed Dozens of Shiites in Four Days

Premium Times, 31 October 2018

The bloody violence that erupted after Nigerian soldiers opened gunfire on Shiite protesters on the outskirts of Abuja Monday afternoon left at least 21 members of the Islamic… Read more »

Nigeria: Another Boko Haram in the Making?

Deutsche Welle, 30 October 2018

Deadly clashes between government troops and Shiite Muslims have raised fears that another conflict is about to get out of hand in Nigeria. Civil society is calling on the central… Read more »

Nigeria: Amnesty International Expresses Concerns Over Shiites, Soldiers Clash

Guardian, 30 October 2018

Amnesty International Nigeria has expressed concerns over the clash between members of the Islamic Movement of Nigeria known as Shiites and officers of the Nigerian army. Read more »
InFocus
Army and police officers shot at members of the Islamic Movement of Nigeria who were demanding the release of their leader Ibrahim Zakzaky, who has been been jailed since December ... Read more »