No Sacred Cows in Zimbabwe, But Will Mugabe Face Justice?
The trial of the jailed former energy minister Samuel Undenge in connection with a case in which a company was reportedly awarded a corrupt tender has begun. Now that former president Robert Mugabe has been implicated in the shady deal, if he's charged and found guilty, could he, like his former lieutenant Undenge, face the full wrath of the law.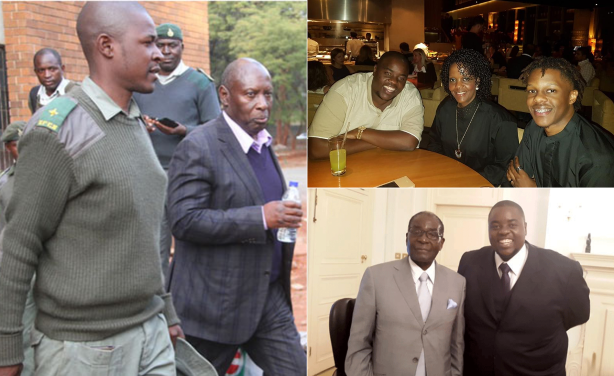 Former energy and power development minister Samuel Undenge, left. and Harare businessman Wicknell Chivayo with the Mugabes.
Zimbabwe: Parliament Wants Solar Project Contract Cancelled

The Source, 1 June 2018

A parliamentary committee has recommended that the $202 million Gwanda Solar Project tender, which was awarded to controversial firm Intratrek Zimbabwe in 2015, be immediately… Read more »

Zimbabwe: Contractors Submit Gwanda Solar Project Survey Report

The Herald, 29 June 2018

Contractors for Zimbabwe Power Company (ZPC)'s 300 megawatt Gwanda solar farm have completed and submitted to the power utility the geo-technical survey report for the project, in… Read more »

Zimbabwe: Former Minister Tells Court He Wants Mnangagwa Arrested

New Zimbabwe, 5 July 2018

FRAUD accused former Energy Minister, Samuel Undenge went ballistic and demanded President Emmerson Mnangagwa's arrest as he took to the dock Wednesday to defend claims of… Read more »

Zimbabwe: Gwanda Solar Project Collapses

Zimbabwe Independent, 16 March 2018

The US$200 million Gwanda solar project has all but collapsed as controversial businessman Wicknell Chivayo has expressed fears that the fraud and corruption charges levelled… Read more »

Zimbabwe: Fraud Accused Ex-Minister Undenge Exonerated?

New Zimbabwe, 24 May 2018

Deputy Chief Secretary in the office of the president and cabinet, Ray Ndlukula Tuesday gave his testimony in a case in which former Energy Minister, Samuel Undenge, is accused of… Read more »

Zimbabwe: Intratek Shareholders Bury the Hatchet

The Herald, 30 April 2018

INTRATREK Zimbabwe shareholders, who had a spectacular fallout over the running of the company and handling of a multi-million dollar tender, have now closed ranks and committed to… Read more »

Zimbabwe: Power Company Gets Gwanda Solar Project Licence

The Herald, 2 November 2017

The Zimbabwe Energy Regulatory Authority (ZERA) has granted Zimbabwe Power Company licence for its $140 million Gwanda solar plant project, which will have capacity to produce 100… Read more »