Slurs, Fists and a Pinky Finger - South African Parliament Chaos
President Cyril Ramaphosa was supposed to be answering questions in the National Assembly, but MPs had other ideas. Economic Freedom Fighters MP Mbuyiseni Ndlozi suggested that cabinet ministers should be given camera-free phones to save them from embarrasment - a reference to Home Affairs Minister Malusi Gigaba's leaked sex tape. Gigaba responded by raising his pinky finger, a gesture some interpreted to be an insult regarding Ndlozi's penis size. The Democratic Alliance and the EFF traded insults, with the terms looters and racists going back and forth and this then turned into a scuffle between Andries Tlouamma, parliamentary leader of the Agang party, and EFF MP Nazeer Paulsen.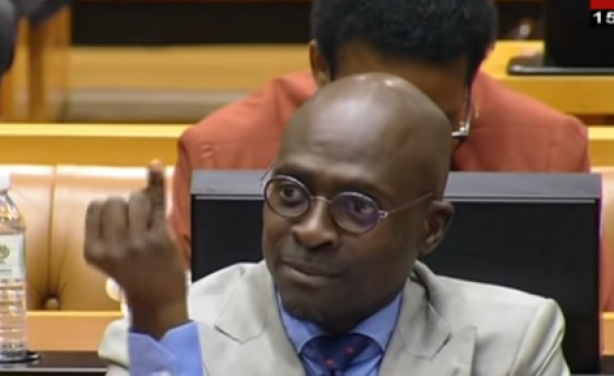 Home Affairs Minister Malusi Gigaba brandishes his pinky finger at EFF spokesperson Mbuyiseni Ndlozi in parliament.
Video
Author:

SABC Digital News

Publisher:

Publication Date:

7 November 2018

Embattled Home Affairs Minister Malusi Gigaba waved his pinky finger at EFF member of Parliament Mbuyiseni Ndlozi in the National Assembly after the ... see more »

Author:

SABC Digital News

Publisher:

Publication Date:

7 November 2018

DA chief whip John Steenhuisen rose for a point of order in the National Assembly, but got drowned out by EFF MPs, who Steenhuisen then called VBS ... see more »

Author:

SABC Digital News

Publisher:

Publication Date:

7 November 2018

President Cyril Ramaphosa's oral reply session was marred by chaos as the DA and the EFF clashed in the middle of the session. The chaos erupted ... see more »
InFocus
South Africa's President Cyril Ramaphosa is applying his mind about which action, if any, will be taken against Home Affairs Minister Malusi Gigaba, whom Public Protector Busisiwe ... Read more »

Embattled South African Home Affairs Minister Malusi Gigaba has said that he will not vacate his post unless asked to do so by President Cyril Ramaphosa. Gigaba's statement comes ... Read more »