Rwandan Prosecutors Want Rwigaras Jailed For 22 Years
Former presidential aspirant and President Paul Kagame's critic Diane Shima Rwigara and her mother Adeline Mukangemana's trial have resumed a month after the two women were released on bail having spent more than a year in jail. The two are facing charges of inciting public insurrection against the government, forgery and promoting sectarian practices.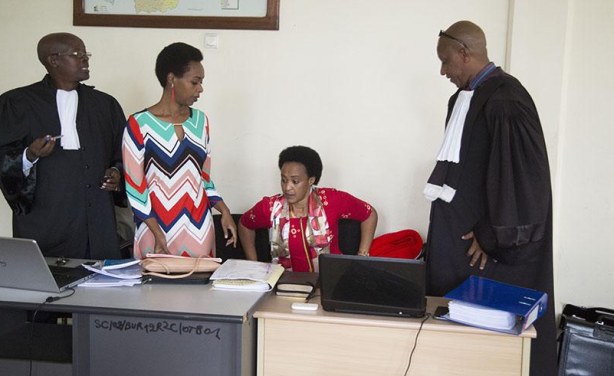 Diane Rwigara and her mother Adeline Rwigara with their lawyers in a Kigali courtroom on November 7, 2018.
InFocus
The courts have granted bail to Diane Rwigara and her mother Adeline Mukamugemanyi-Rwigara, saying that some of the reasons for which they had been remanded no longer existed. Read more »

Rwanda Revenue Authority is trying to recover over U.S.$$6.9 million it says it is owed in taxes by the family of former presidential candidate Diane Rwigara. Disqualified from the ... Read more »

The four individuals who are alleged to have assisted her, have been identified as Tabitha Mugenzi, an aunt of Diane Rwigara who resides in Canada, Xaverine Mukangarambe and Jean ... Read more »