Rwanda's First Lady Urges Govts to Ease Access to Family Planning
Jeannette Kagame has urged women to use their leadership positions, collective knowledge, skill and experience, to help in innovating solutions, challenge norms and standards that do not promote equality, in all sense of life. She was speaking at a high-level panel titled 'Women of Impact: Leading Ladies Leading Positive Change' at the ongoing International Conference on Family Planning in Kigali.
Rwanda: Have Your Say on Family Planning, First Lady Tells Women Leaders

New Times, 14 November 2018

Rwanda's First Lady, Jeannette Kagame, has rallied women in leadership to use their positions to voice concerns on family planning services if they are to make a critical… Read more »

Rwanda: First Lady - Mindset Shift Key to Higher Uptake of Family Planning

New Times, 13 November 2018

The quest for higher global uptake of family planning will get a major boost if there is a mindset change, mainly by discarding some misguided beliefs that hinder family planning. Read more »

Africa: World Set to Miss Contraception Goal, Leaving Millions of Women Behind

Thomson Reuters Foundation, 12 November 2018

An ambitious goal to boost the number of women using modern contraception by tens of millions by 2020 is falling far behind, said experts on Monday who say family planning helps… Read more »

Rwanda: Policymakers, Experts Root for Greater Access to Contraceptives

New Times, 12 November 2018

leaders gathered at the on-going fifth edition of the International Conference on Family Planning (ICFP) have called on governments and other partners around the world to improve… Read more »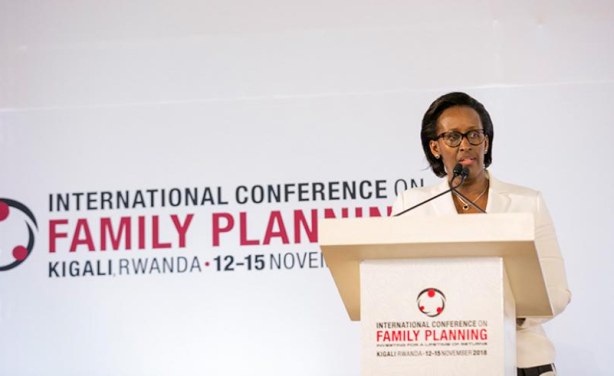 First Lady Mrs Jeannette Kagame addresses delegates at the 5th International Conference on Family Planning luncheon in Kigali.