'Ramaphosa Must Admit He Lied to South African Parliament'
Economic Freedom Fighters leader Julius Malema says President Cyril Ramaphosa must take full responsibility and admit that he lied to parliament. In a letter addressed to the Speaker of the National Assembly the president has backtracked on a response he gave before the National Assembly over U.S.$36,000 payment from Bosasa, allegedly for the benefit of his son, Andile Ramaphosa, saying the October 2017 payment was a donation towards his ANC presidential campaign, which he claims was made without his knowledge.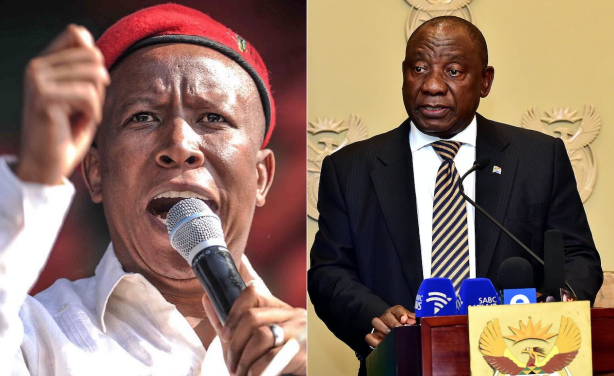 President Cyril Ramaphosa and EFF leader Julius Malema.
South Africa: Could Bosasa Payment Impact On 2019 Elections?

News24Wire, 18 November 2018

How far the possible influence of Bosasa extended following a payment to Cyril Ramaphosa's 2017 ANC President campaign remains a key issue and one that could affect voters at the… Read more »

South Africa: Ramaphosa Must Admit He Lied to Parliament - Malema

News24Wire, 17 November 2018

The EFF has called on President Cyril Ramaphosa to take full responsibility and admit that he lied to Parliament about a R500 000 payment from Bosasa. Read more »

South Africa: Ramaphosa Corrects His National Assembly Reply On His Son's Dealings With Bosasa

News24Wire, 16 November 2018

President Cyril Ramaphosa has backtracked on a response he gave before the National Assembly 10 days ago over a R500 000 payment from Bosasa CEO Gavin Watson, allegedly for the… Read more »

South Africa: DA Formally Applies to See Ramaphosa's Son's Bosasa Contract

News24Wire, 11 November 2018

The Democratic Alliance on Sunday said that it had formally applied to see the business contract apparently signed by Andile Ramaphosa, the president's son, and corruption-accused… Read more »

South Africa: Ramaphosa Admits Son Has Done Business With Bosasa

News24Wire, 6 November 2018

President Cyril Ramaphosa has confirmed that his son, Andile Ramaphosa, received payments from corruption accused facilities management company Bosasa, but that he had questioned… Read more »

South Africa: Bosasa Executive to Blow the Whistle On Corruption

News24Wire, 22 August 2018

A senior former Bosasa executive has threatened to blow the whistle on "racketeering, corruption and money laundering that I have been aware of over the last 18 years". Read more »

South Africa: Mantashe Speaks About Bosasa Security Upgrades

News24Wire, 30 September 2018

ANC national chair and mineral resources minister Gwede Mantashe has spoken out about security upgrades at his home and other properties undertaken by controversial corruption… Read more »