Kenya Counting the Cost of Oil Leaks, Spills
Oil marketing companies are waiting for reports on the disapperance of fuel valued at about U.S.$20 million following a report that insists that in the last 15 months, Kenya Pipeline Company lost 11.46 million litres through spillages. Sources within the company has said that officials have allegedly been "cooking the books" to overstate the amounts lost from small leakages, which are then recorded as spillages.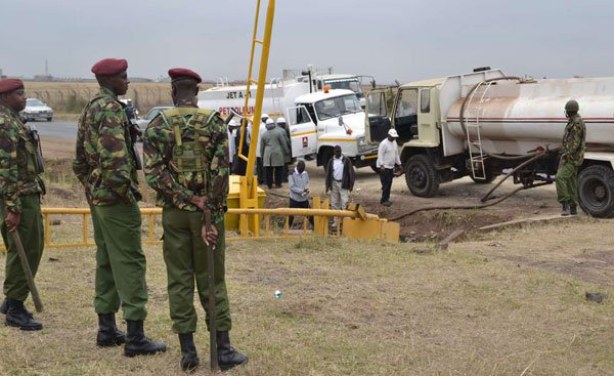 General Service Unit officers cordon off an area where jet fuel spilt near Kenya Pipeline depot on North Airport Road (file photo).
InFocus
The new fuel price which comes into effect on December 14, comes just a month after President Uhuru Kenyatta issued a directive to revise the Value Added Tax on petroleum products ... Read more »

President Uhuru Kenyatta has given no immediate reason why he declined to sign the Amended Finance Bill 2018, proposed by MPs who want the value added tax increase on petroleum ... Read more »

With the rise in international crude prices in August and the 16% Value Added Tax still in limbo but in force, the Energy Regulatory Commission may not have good news for Kenyans. ... Read more »