'Saudi Prince's Visit a Flagrant Violation of Tunisia Revolution'
Crowds protesting a visit by Saudi Crown Prince Mohammed bin Salman have gathered in the capital's main avenue. The embattled royal's trip to the country is his first overseas journey since the killing of Jamal Khashoggi, a Saudi Arabian columnist and dissident whose death is suspected to have been orchestrated by the 33-year-old monarch.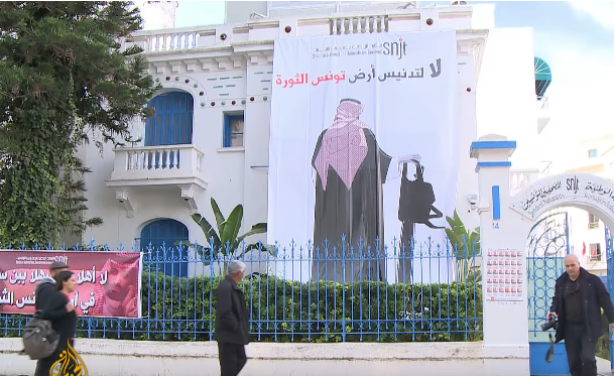 Video screenshot of a poster hung on the office building of the Tunisian Journalists' Syndicate depicting Saudi Prince Mohammed bin Salman holding a chainsaw with the phrase 'no to the desecration of Tunisia, land of the revolution'.
InFocus
When Saudi Arabian journalist Jamal Khashoggi walked into the Saudi Arabian consulate in Istanbul on October 2nd, he was never seen again. Saudi Arabia says he died in a fist ... Read more »