Cancer of the Oesophagus is Kenya's Deadliest
There has been 4,351 deaths resulting from oesophagus cancer and there will be about 33, 978 cancer deaths by the end of this year according to data released by Doctor Anne Ng'ang'a, head of the National Cancer Control Programme. In 2017, breast cancer was leading followed by cervical, prostrate and oesophagus cancer.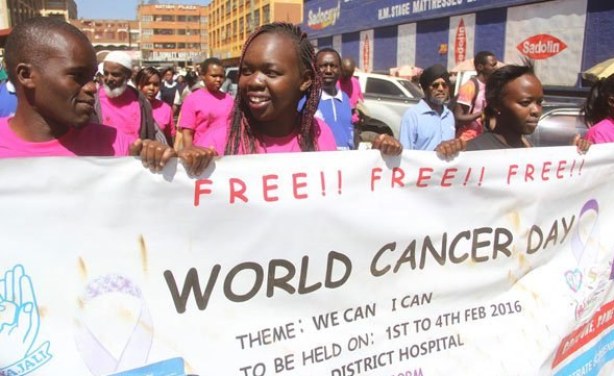 Residents of Eldoret mark World Cancer Day (file photo).
Kenya: Miraa, Hot Tea, Mursik Blamed For Cancer Cases

Nation, 16 November 2018

Taking hot tea while chewing miraa and frequent drinking of mursik (fermented milk) are the leading causes of cancer of the oesophagus or food pipe in Northern Kenya and Rift… Read more »

Kenya: Charity Offers to Pay U.S.$970,000 Bill for Cancer Patients

Nation, 14 November 2018

At least 50 cancer patients will get financial support from Faraja Medical Fund after if received more Sh100 million in donations to help pay for bills not covered by insurance. Read more »

Kenya: Drug Scarcity Adds to Cancer Patients' Pain

Nation, 6 November 2018

Cancer patients who depend on Mercaptopurine will have to either do without it, or resort to other drugs. Read more »

Kenya: Cancer Medicines Outside Govt's Essential Drugs List

Nation, 6 November 2018

The State agency responsible for buying medicines for public hospitals does not stock cancer drugs amid rising deaths and an acute shortage. Read more »

Kenya: Agony for Children as KNH Cancer Drugs Run Out

Nairobi News, 4 November 2018

Cancer drugs for children receiving treatment at the Kenyatta National Hospital have run out, putting the lives of the young ones at risk. Read more »
InFocus
The head of the National Vaccines and Immunisation Programme has confirmed that the change of the programme was due to high demand from countries across the globe for the Human ... Read more »