See How Opposition Protesters Brought Traffic to Halt in Zimbabwe
Thousands of anti-government demonstrators marched through Harare under close surveillance by police in the first rally since a deadly crackdown on an election protest in August. Singing and waving placards denouncing President Emmerson Mnangagwa's rule, the protesters gathered in the centre of Zimbabwe's capital, Harare to hear speeches ahead of a march.
Zimbabwe: MDC Crowd Hounds Party Deputy President Mudzuri Off Stage

New Zimbabwe, 30 November 2018

MDC deputy president Elias Mudzuri was Thursday forced to abandon a party event when angry supporters booed him off stage and followed him to his car hurling insults at him for… Read more »

Zimbabwe: MDCA Demo a Monumental Flop

The Herald, 30 November 2018

Zimbabweans largely ignored the demonstration called by the MDC-Alliance yesterday, and continued with their business as usual, while all shops were open in Harare's Central… Read more »
InFocus
MDC leader Nelson Chamisa claims he beat Zimbabwean President Emmerson Mnangagwa with 57.10 percent of the national vote against the latter's 42.10 percent in the July 30 ... Read more »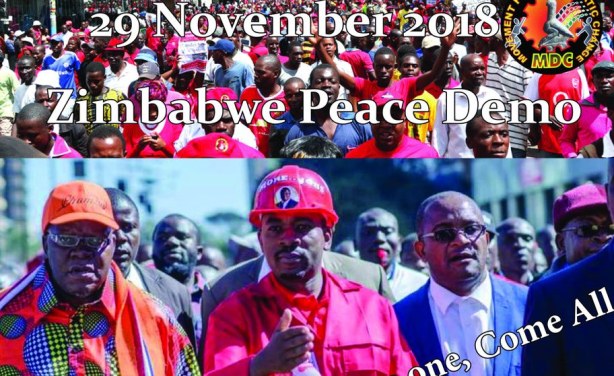 The Movement for Democratic Change Twitter poster for the November 29 protest.