Ebola Spreads to New Urban Areas in DR Congo
The newest urban locations to be affected are the city of Butembo, as well as Kalenguta, 25km to its north, and Katwa, 30km to its east. These areas have all seen an increase in confirmed cases as well as some resistance from the community.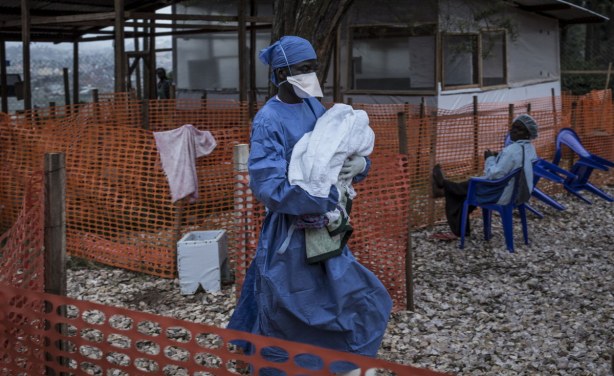 A caretaker already cured from Ebola is seen carrying a four day old baby suspected of having ebola, into a MSF supported Ebola Treatment Centre(ETC) in Butembo.
Video
Author:

Michael Tantoh

Publisher:

Publication Date:

6 December 2018

The newest urban locations to be affected are the city of Butembo, as well as Kalenguta, 25km to its north, and Katwa, 30km to its east. These areas ... see more »
InFocus
The tally of Ebola cases in the Democratic Republic of Congo has reached 426, surpassing the number of cases in the 2000-2001 Uganda outbreak and making it the second worst in ... Read more »

Health workers have launched a door-to-door, four-day blitz to first bring malaria under control, with the aim of cutting suspected Ebola cases in half. Read more »

More than 200 people have died of Ebola in the Democratic Republic of Congo, as fears grow that the latest outbreak is being worsened by the increasing fighting in the eastern ... Read more »
Photo Essay
Picture 1 of 7

The Ebola epidemic continues to spread through the Democratic Republic of Congo (DRC)'s North Kivu province. The newest areas to be affected include the city of Butembo and a number of isolated ... see more »