Can East Africa Sustain Its Promising Anti-Corruption Efforts?
National and regional anti-corruption efforts show that the state can equitably distribute resources, improve service delivery and create an enabling environment for economic development. These efforts should be binding to enable the AU to impose sanctions or compel compliance by all member states, writes Duncan E Omondi Gumba and Charity Musembi for the Institute for Security Studies.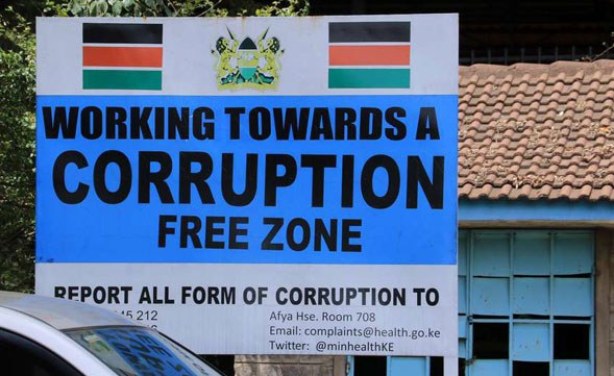 A banner outside the Kenya's Ministry of Health, warning against corruption.
Kenya: Judges Postpone Mwilu Petition as Lawyers Lock Horns Over Queens Counsel's Role

Capital FM, 6 December 2018

A five-judge bench of the High Court hearing Deputy Chief Justice Philomena Mwilu's petition seeking to stop criminal proceedings against her has adjourned to January 17 when it… Read more »

East Africa: Tanzania Second Less Corrupt EA Country

Daily News, 6 November 2018

TANZANIA has made significant strides in reducing corruption during the three years of President John Magufuli, making it become the second less corrupt nation in the East African… Read more »

Kenya: UNODC Hosts Youth Conference On Anti Corruption

Capital FM, 6 December 2018

The United Nations Office on Drugs and Crime (UNODC) in Gigiri, Nairobi, is hosting hundreds of youth for a three-day conference that seeks to dialogue and generate solutions on… Read more »

East Africa: How Corruption Encourages Illegal Fishing On Lake Victoria

The Conversation Africa, 11 September 2018

Illegal fishing is a global challenge. By ignoring legislation, using illegal gear or selling undersized fish, 26 million tons of seafood, estimated at USD$23 billion, is extracted… Read more »
InFocus
Judges at the Federal High Court granted police another 14-day extension for 26 officials from the state-owned military-industrial conglomerate Metals & Engineering Corporation. Read more »

An internal United Nation probe has found that the wasted millions in donor funds was due to overpaying for goods and services, awarding major contracts improperly, and failing to ... Read more »

The Ethics and Anti-Corruption Commission has recommended that counties put their officials to the test to ensure that graft is curbed, in a city where sectors and departments have ... Read more »