Fire Guts DR Congo's Electoral Commission Building
The head of the Independent National Election Commission Corneille Nangaa has said that the fire broke out around 2am in a building where election materials were being kept.
Congo-Kinshasa: Fire Guts Electoral Commission Building

allAfrica, 13 December 2018

Days ahead of elections, the building that houses the country's electoral commission in Kinshasa has caught fire. The cause of the fire is still unknown but AFP reports that thick… Read more »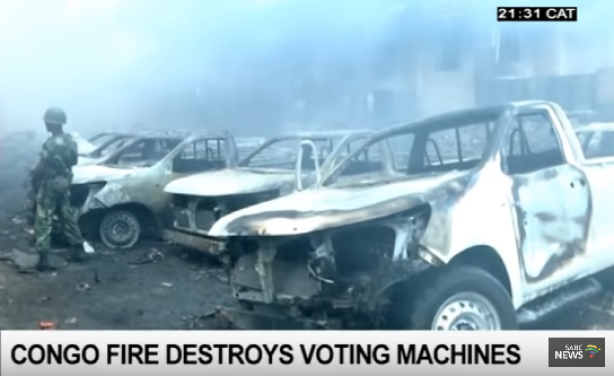 A major fire destroyed an election warehouse in Kinshasa.
Video
Author:

SABC Digital News

Publisher:

Publication Date:

14 December 2018

The Democratic Republic of Congo Presidency says preparations for the December 23 presidential vote will go ahead despite a fire at that ... see more »
InFocus
Opposition leader Felix Tshisekedi was greeted by tens of thousands of supporters on his return from exile, as he kicked off his campaign to replace President Joseph Kabila in the ... Read more »

While not all the demands of the opposition and civil society groups have been met on the release of political prisoners, the scepticism over the newly introduced voting machines ... Read more »