Kenyan Hotel Endangering UN Offices, U.S. Embassy Demolished
The brand-new, multi-million-shilling Grand Manor Hotel owned by businessman Praful Kumar has been left in a pile of rubble as San the excavator brought down the building. The controversy surrounding the hotel hit headlines in August after Kumar was arrested by anti-corruption detectives in Kilifi on claims that that he intended to bribe Nairobi Governor Mike Sonko not to demolish the property.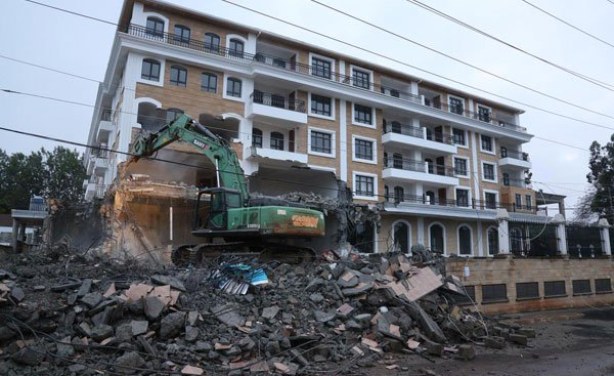 Sany the excavator demolishes Grand Manor Hotel.
Kenya: Demolition of Grand Manor Hotel Underway in Gigiri

Nairobi News, 13 December 2018

Sany, the dreaded green excavator that has been tearing down multi-billion-shilling properties on riparian land and road reserves in the capital Nairobi, has refused to take a… Read more »

Kenya: Demolition of Grand Manor Hotel in Gigiri Underway

Capital FM, 13 December 2018

The demolition of Grand Manor hotel in Gigiri started on Thursday morning, following a court order obtained by the Nairobi County Government. Read more »

Kenya: Demolition of Grand Manor Hotel Underway in Gigiri, Nairobi

Nation, 13 December 2018

Sany, the dreaded, tiny, green excavator that has been tearing down multi-billion-shilling properties on riparian land and road reserves in the capital Nairobi, has refused to take… Read more »

Kenya: Hotel Near UN Offices in Gigiri Brought Down

Capital FM, 13 December 2018

Sany, the excavator used to demolish buildings, broke the serenity of Gigiri Thursday morning, as it brought down the Grand Manor Hotel. Read more »