Strike Deadlock Paralyses Zimbabwe's Health Sector
The government has warned that junior doctors will face disciplinary action if they want to return to work, with Acting President Constantino Chiwenga accusing the medics of "gambling with people's lives". More than 500 junior doctors have been on strike for nearly a month with the Health Services Board suspending them after the job action was declared illegal by the labour court.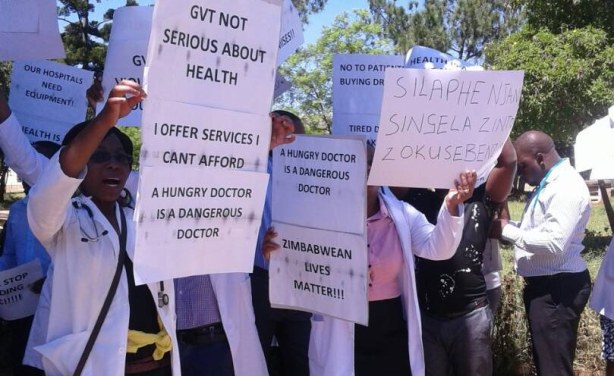 Zimbabwe doctors on strike.
Documents
Author:

ZHDA

Publisher:

Publication Date:

28 December 2018

Doctors are not students, they are qualified doctors with two degrees, receive no financial assistance from government during their training and ... see more »
InFocus
Doctors at public health institutions have reportedly been forced to use condoms in place of disposable medical gloves as the government struggles to maintain critical supplies to ... Read more »

Doctors at public hospitals say they will not return to work until the government meets their demands for better pay and working conditions. The action is the first major labour ... Read more »

Government has rejected striking junior doctors' demands for U.S. dollar wages with Health and Child Care Minister Obadiah Moyo describing the idea as "awkward". Zimbabwe's junior ... Read more »