Is Mnangagwa Capping Thousands of 'Useless' Graduates?
As businesses downsize and lay off workers, few of Zimbabwe's graduates have any real chance of a job. But Agriculture, Rural and Development Authority boss Basil Nyabadza says state universities chancellor, President Emmerson Mnangagwa was unknowingly capping thousands of "useless" agriculture graduates who aren't ripe for the employment market.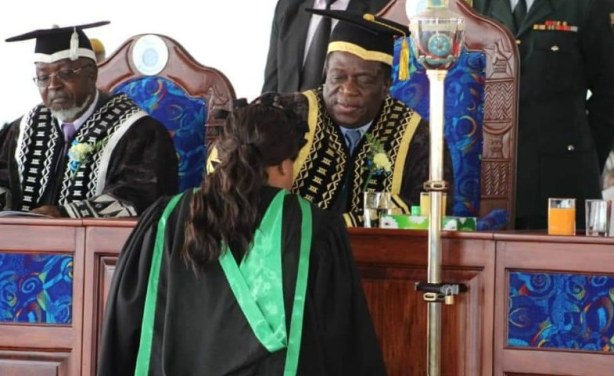 President Emmerson Mnangagwa capping graduate (file photo).
Zimbabwe: President Caps 364 Harare Institute of Technology Graduates

The Herald, 3 November 2018

President Mnangagwa yesterday capped 364 graduates at Harare Institute of Technology (HIT) who excelled in various entrepreneurial disciplines. Read more »

Zimbabwe: Be Patriotic, Graduates Urged

The Herald, 31 October 2018

Educationist and politician, Dr Cleopas Kundiona has urged graduates countrywide to be patriotic and apply the skills they have acquired during their studies to develop the nation… Read more »

Zimbabwe: Economy Under Siege - President

The Herald, 20 October 2018

President Mnangagwa yesterday said his Government was aware and gravely concerned by the manipulation of the economy by a group of people and businesses aimed at destabilising the… Read more »

Zimbabwe: Mnangagwa to Cap 1 719 At Buse

The Herald, 19 October 2018

Cletus Mushanawani Mash Central Bureau Read more »

Zimbabwe: ED to Officiate at CUT Graduation

The Herald, 4 October 2018

President Mnangagwa is tomorrow expected to officiate at the Chinhoyi University of Technology 14th Graduation Ceremony. CUT was the first university where President Mnangagwa… Read more »

Zimbabwe: Govt Should Up Support for New Farmers - Minister Shiri

The Herald, 26 September 2018

Lands, Agriculture, Water, Climate and Rural Settlement Minister Perrance Shiri has called for more support for new farmers to address food insecurity issues and to boost… Read more »

Zimbabwe: 'Too Many State Universities Add No Value to the Economy'

New Zimbabwe, 21 September 2018

Captains of industry have urged the government to cut on the number of state universities, saying some of them are adding no value to the economy. Read more »