DR Congo Poll Results Delayed As U.S. Deploys Troops to Gabon
The first vote tallies from the December 30 presidential election will be delayed past Sunday's deadline, the head of the election commission has said.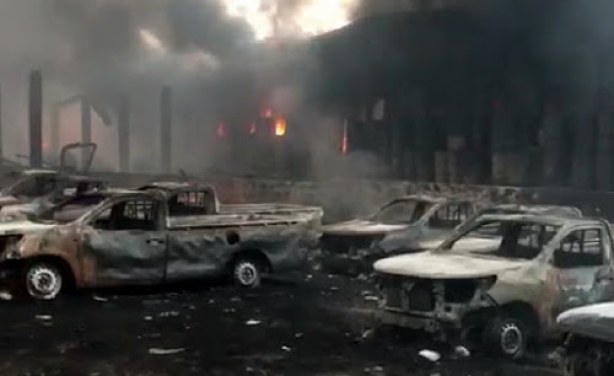 Vehicles in a warehouse of the Independent National Electoral Commission in Kinshasa were destroyed by a fire on December 13, 2018.
Congo-Kinshasa: U.S. Deploys Troops to Gabon Over Possible DR Congo Violence

Deutsche Welle, 5 January 2019

Concerns are mounting that violence will erupt in DR Congo over last Sunday's contested election. The vote was marred by delays, irregularities and voting problems. Read more »

Congo-Kinshasa: Catholic Church's Meddling in Politics is Reckless and Dangerous

Deutsche Welle, 6 January 2019

Results for last week's DR Congo presidential election are delayed -- another setback for the country's democracy. But pressure from the Catholic Church could incite violence and… Read more »

Southern Africa: Congolese Have Done Their Part. Now's SADC and the AU's Moment of Truth.

African Arguments, 3 January 2019

As the DRC counts votes from the presidential election, the regional and continental body will be crucial in determining the poll's legitimacy. Read more »

Congo-Kinshasa: Voter Suppression, Violence

HRW, 5 January 2019

Widespread irregularities, voter suppression, and violence significantly marred elections on December 30, 2018 in the Democratic Republic of Congo. Election officials should ensure… Read more »

Congo-Kinshasa: US Threatens Sanctions if 'Voices, Votes Not Respected'

State Department, 4 January 2019

The United States stands by the millions of Congolese voters who went to the polls across the Democratic Republic of the Congo (DRC) on December 30 to participate in presidential,… Read more »