Nigeria Reacts To Audio of Amaechi 'Criticizing' Buhari
The Presidency says leaked audio of Minister of Transport Rotimi Amaechi purportedly criticising President Muhammadu Buhari occurred in 2014 and that the minister was referring to Goodluck Jonathan the then president. In the recording which has gone viral, Amaechi apparently claimed Buhari does not read newspapers or listen to news on the economic situation in the country. Amaechi was alleged to have said: "This country can never change, I swear. The only way this country can change is in a situation where everybody is killed."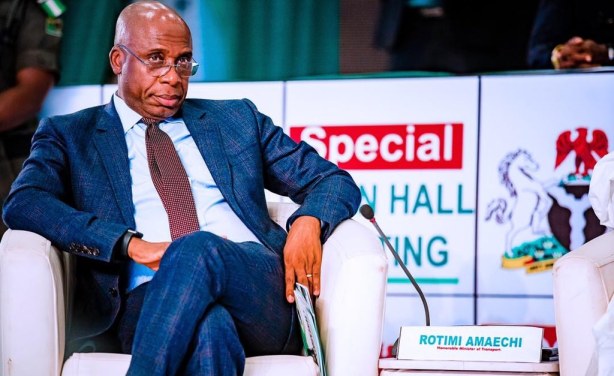 Minister of Transportation, Rotimi Amaechi.
Nigeria: Defiant Amaechi Speaks After Secret Tape Release, Attacks PDP

Premium Times, 7 January 2019

The Director-General of President Muhammadu Buhari's reelection campaign organisation, Rotimi Amaechi, has called on Nigerians not to give one vote to the opposition Peoples… Read more »

Nigeria: In New Recording, Amaechi Depicts Lagos As 'Glorified Village'

Premium Times, 7 January 2019

PREMIUM TIMES has obtained the third in a series of leaked audio recordings by Rotimi Amaechi, Nigeria's transport minister and the director general of President Mohammadu Buhari's… Read more »

Nigeria: Transport Minister Amaechi Criticizes Buhari in Leaked Audio

Premium Times, 6 January 2019

Nigeria's transport minister, Rotimi Amaechi, has been heard in an audio recording to be expressing shocking pessimistic views about Nigeria and the administration of President… Read more »

Nigeria: Twitter Reacts to Galadima and Enang Debate On 'Kakaaki'

Guardian, 7 January 2019

The approach of the 2019 presidential elections has made it evident that it is no longer a contest but a full-blown war fought more by the pawns than the real players themselves. Read more »

Nigeria: Amaechi - PDP Mocks Buhari Over Leaked Tape

Vanguard, 7 January 2019

The Peoples Democratic Party Presidential Campaign Organization (PPCO) has asked President Muhammadu Buhari to throw in the towel and end his re-election bid, following the… Read more »

Nigeria: Amaechi's Ex-Aide Speaks On Leaked Tapes

Premium Times, 7 January 2019

Ibim Semenitari, a former aide to the Minister of Transportation, Rotimi Amaechi, has reacted to the audio recording in which the transport minister is heard expressing shocking… Read more »

Nigeria: Amaechi's Tape Clear Case of Cut and Paste - Semenitar

Vanguard, 7 January 2019

Mr Rotimi Amaechi's former aide, Mrs. Ibim Semenitari has said that the recently released audio recording of the Minister of Transportation was a clear case of cut and paste and… Read more »

Nigeria: Atiku Campaign Releases Secret Tapes Quoting Minister Amaechi As Criticizing Buhari

Premium Times, 6 January 2019

The campaign team of the presidential candidate of the Peoples Democratic Party, Atiku Abubakar, has released audio tapes which it described as that of the Minister of… Read more »