UN Takes Action After Haysom Kicked Out, Al-Shabaab Attack
Ambassador Abukar Dahir Osma, the country's UN envoy has urged the United Nations not to interfere in Somalia's internal affairs, days after the government expelled the UN's top official there. The expulsion of South African Nicholas Haysom was accused of "violating protocols" and "deliberately interfering" in Somali affairs. The government's action came shortly after 7 mortars landed inside the UN compound - an attack claimed by Al-Shabaab.
Somalia: UN Reduces Staff After Al-Shabaab Attack, Haysom Expulsion

Dalsan Radio, 7 January 2019

The United Nation has announced that it will reduce its staff in Somalia. Read more »

Somalia: Al-Shabaab Militants Executed by Military

Shabelle, 7 January 2019

The two al-Shabaab assassins were convicted for the murder of a traditional elder in Mogadishu. Read more »

Somalia: UN Chief Expresses 'Full Confidence' in Top Official Following Govt Expulsion

UN News, 5 January 2019

The UN Secretary-General said on Friday he "deeply regrets" the Somali Government's decision to expel his Special Representative in the country, adding that he had "full… Read more »

Somalia: Somali Diplomat to UN: Don't Interfere in Our Internal Affairs

VOA, 4 January 2019

Somalia's U.N. envoy Thursday urged the United Nations not to interfere in his country's internal affairs, two days after the federal government expelled the U.N.'s top official… Read more »

Somalia: EU, UK & Germany Suspends Financial Aid Over Robow Arrest

Dalsan Radio, 2 January 2019

The European Commission, the United Kingdom, and Germany have suspended its support for Somalia Police in the South West state under the Joint Policing Programme. Read more »

Somalia: UN Envoy Ordered to Leave Somalia

VOA, 1 January 2019

Nicholas Haysom, Special Representative of the United Nations Secretary-General for Somalia, has been asked by the Somalia government to leave the country. Read more »

Somalia: Govt Declares UN Chief Haysom Persona Non Grata

Dalsan Radio, 1 January 2019

Somalia's Foreign Affairs Ministry on Tuesday announced that the country had declared South African Nicholas Haysom the UN Chief in Somalia persona non grata. Read more »

Somalia: Attack On UN Compound in Somalia May Be 'Violation of International Humanitarian Law'

UN News, 2 January 2019

United Nations Secretary-General António Guterres strongly condemned Tuesday's attacks against the UN compound in Mogadishu, the capital of Somalia, saying that… Read more »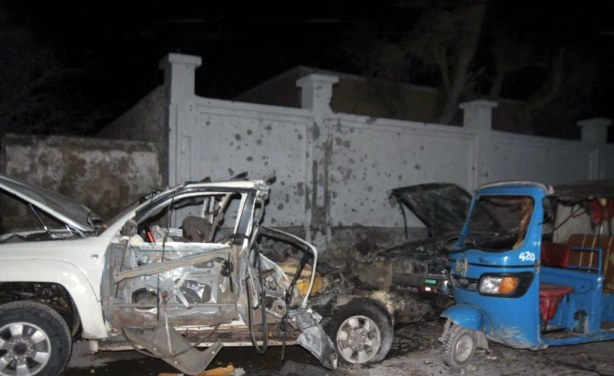 A bombing in the Somali capital of Mogadishu (file photo).
InFocus
At least 15 people were killed in a double car bomb attack near the presidential palace in the Somali capital Mogadishu, police said. Those killed include three staffers from the ... Read more »