Nigerian Govt Reaches Agreement with Academic Union
Lecturers have been on strike since November, 2018, demanding improved funding of universities and implementation of previous agreements with the government. The government has agreed to release U.S.$42 million in salary shortfall to public universities.
Nigeria: Govt, Academic Union Reach Agreement

Premium Times, 7 January 2019

The Nigerian government has reached an agreement with striking university lecturers, raising the possibility of ending the teachers' prolonged industrial action. Read more »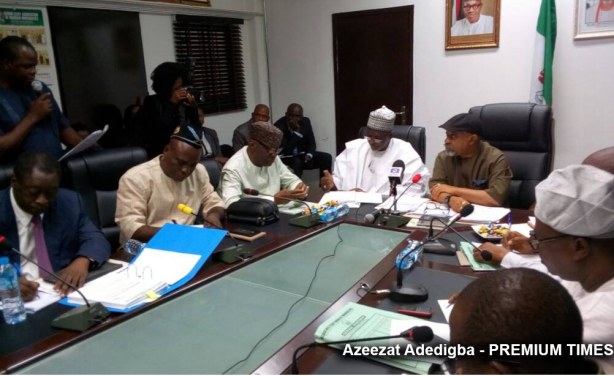 ASUU strike: Lecturers meet Nigerian govt delegation (file photo).
Nigeria: ASUU Strike - Govt Approves Over N35.4bn, to Resume Talks On Thursday

Vanguard, 7 January 2019

Barring any last minutes change, academic activities may resume in public universities next week, as Federal Government has approved over N35.4 billion for the striking Academic… Read more »

Nigeria: ASUU Asks Nigerians to Beg Buhari to Have Mercy On Students

Guardian, 8 January 2019

The Academic Staff Union of Universities (ASUU) has called on Nigerians to plead with President Muhammadu Buhari to have mercy on students by meeting its demands to end the strike… Read more »

Nigeria: Govt, ASUU May Reach Final Deal Thursday

This Day, 8 January 2019

The federal government and the leadership of the Academic Staff Union of Universities (ASUU) yesterday made progress in their negotiations to end the over one- month industrial… Read more »

Nigeria: Govt, NLC, ASUU Meet Today Over Strike, Planned Protest

This Day, 7 January 2019

The Minister of Labour and Employment, Chris Ngige will lead the federal government team, including the Ministers of Finance and that of the National Budget and Planning to a… Read more »

Nigeria: Striking Unions Ask Students to Boycott Exams

Premium Times, 7 January 2019

The striking Academic Staff Union of Universities (ASUU) has warned the Obafemi Awolowo University (OAU), Ile Ife, against conducting examinations when 70 per cent of the courses… Read more »

Nigeria: Students Appeal to Unions, Govt to Resolve Strike Dispute

Daily Trust, 4 January 2019

Some undergraduate students in Nsukka, yesterday appealed to the Federal Government (FG) and the Academic Staff Union of Universities (ASUU) to shift grounds and resolve their… Read more »
InFocus
The government has withdrawn the recent threat to activate the 'no work no pay policy' against striking university teachers, says the National President of the Academic Staff Union ... Read more »

As the industrial action embarked on by the Academic Staff Union of Universities enters its fourth week, the union has vowed not to return to class until its demands are met. The ... Read more »