Governor Shettima Weeps Over Boko Haram's Siege on Borno
Borno State Governor Alhaji Kashim Shettima met with President Muhammadu Buhari in Abuja and wept over unrelenting devastation of his state by Boko Haram terrorists, asking the president to do more to save the people from destruction. Buhari reasserted his "administration's support to equip the military to overcome the insurgency in the North-East."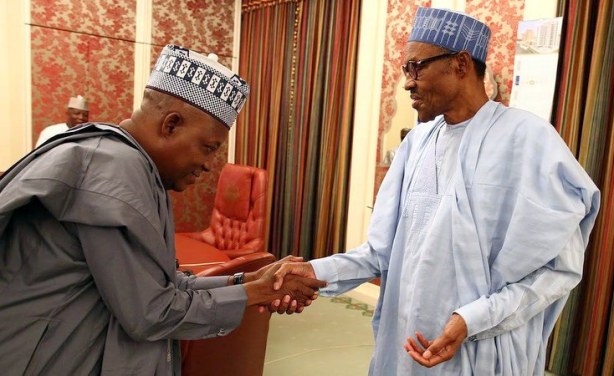 President Muhammadu Buhari and Borno State Governor Kashim Shettima.
Nigeria: Shettima Meets Buhari, Weeps Over Boko Haram's Siege to Borno

This Day, 8 January 2019

Borno State Governor, Alhaji Kashim Shettima, yesterday met with President Muhammadu Buhari in Abuja and wept profusely over unrelenting devastation of his state by Boko Haram… Read more »

Nigeria: Gov Shettima Weeps At Aso Rock, Says Insurgents Are Threatening to Take Over

Vanguard, 8 January 2019

President Muhammadu Buhari, yesterday met with the Borno State Governor, Ibrahim Shettima and elders from the state at the Council Chamber, Presidential Villa, Abuja, as the… Read more »

Nigeria: I'll Do More to Secure the Country - Buhari

Daily Trust, 8 January 2019

The President Buhari reasserted his administration's unwavering support to equip the military to overcome the insurgency in the North-East. Read more »

Nigeria: Boko Haram - Borno Presents 10 Demands to Buhari

Daily Trust, 8 January 2019

A high powered delegation comprising traditional rulers, religious leaders, women groups and politicians led by the State Governor, Kashim Shettima yesterday presented 10 requests… Read more »

Nigeria: Troops Kill Over 100 Terrorists in Battle of Baga

Vanguard, 7 January 2019

Over 100 Boko Haram terrorists have been killed in clearance operations in Baga and neighbouring towns, by troops of the Nigerian Military and air strikes by the Nigerian Air… Read more »

Nigeria: I Will Do More to Defeat Boko Haram - Buhari

Premium Times, 7 January 2019

President Muhammadu Buhari Monday in Abuja met a delegation from Borno State, during which he reasserted his administration's unwavering support to equip the military to overcome… Read more »
InFocus
The raid happened after the newspaper published a report detailing how the Nigerian military assembled troops and equipment in preparation for a massive operation to retake Baga ... Read more »