Globacom's Adenuga Closing In On Dangote as Africa's Richest Man
President of the Dangote Group Aliko Dangote has retained his position as Africa's richest man for the eighth consecutive time. However, Globacom Chairman Mike Adenuga is closing in on the gap as he is just U.S.$800 million away from Dangote, whose wealth dipped to U.S.$10 billion, from U.S.$12 billion last year. This makes Adenuga the second richest man in Africa.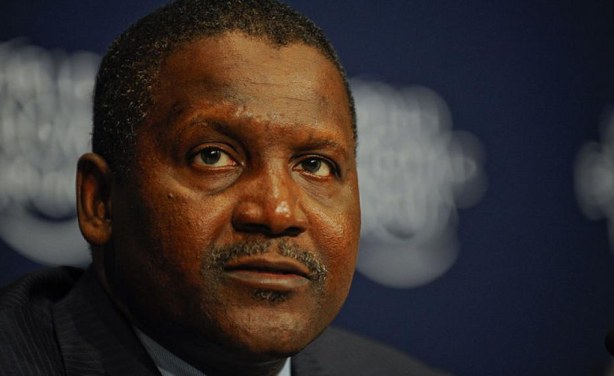 Aliko Dangote est toujours l'homme le plus riche d'Afrique mais son patrimoine a diminué.
Africa: Dangote, Mike Adenuga Retain Spot in Forbes Africa's Richest List

Guardian, 10 January 2019

Forbes has released Africa's Richest List for the year 2018 and it sees some surprises. Read more »

Nigeria: Forbes - Nigerians React As Dangote's Worth Drops to $10.3bn

Vanguard, 10 January 2019

Business Tycoon, Alhaji Aliko Dangote, may have retained his spot as Africa's money bag with an estimated worth of $10.3bn, closely followed by Globacom chairman, Mike Adenuga… Read more »

Nigeria: Dangote Remains Africa's Richest Man

This Day, 10 January 2019

The President of the Dangote Group, Alhaji Aliko Dangote, is Africa's richest man for the eighth consecutive year, according to the 2019 Forbes Africa's Billionaires released… Read more »

Nigeria: Adenuga Closes Gap With Dangote in Forbes Billionaires Ranking

Vanguard, 10 January 2019

Globacom Chairman Mike Adenuga Jnr, with interests in oil exploration and real estate has moved up, ranking next to Aliko Dangote as Africa's second richest man. Read more »
InFocus
Dangote Refinery is investing in producing Euro V fuel to help Nigeria meet the European standard of petrol. Sulphur in petroleum fuels results in vehicle exhaust emissions that ... Read more »

Aliko Dangote, president of Dangote Group, has been named the sixth most charitable man in the World by Richtopia, a digital periodical that covers business, economics, and ... Read more »

Business mogul Aliko Dangote has retained his position as Africa's richest man, with a net worth of U.S.$12.4 billion. Forbes's report shows that despite losing U.S.$1.7 billion, ... Read more »