Zimbabwe Govt Restores Internet - But Not Social Media
Zimbabwe's government has restored internet services in the country but social media sites remain blocked. This follows violent demonstrations over a steep rise in the price of fuel. In three days of protests, at least three people have been killed and 600 have been arrested.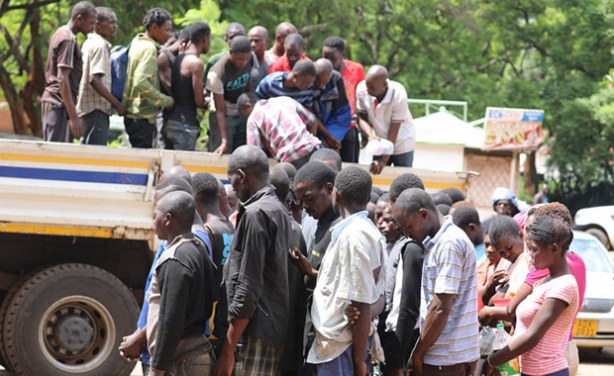 Suspects being led into the Harare Magistrate's Courts.
Zimbabwe: 60 More in Court for Public Violence

The Herald, 17 January 2019

SIXTY more people have appeared in court for taking part in protests that saw property destroyed in Harare, especially on Monday and Tuesday. Read more »

Zimbabwe: Demo Organisers Liable for Damages - Govt

The Herald, 17 January 2019

Government yesterday said MDC-Alliance and its allies who organised demonstrations that degenerated into a spree of violence, arson and looting were liable to claims by members of… Read more »

Zimbabwe: Opposition - We Are Not to Blame for the Violence

Deutsche Welle, 16 January 2019

Zimbabwe's opposition says that it is not responsible for violent protests over fuel price hikes. An analyst tells DW the government is using tactics "reminiscent of the Mugabe… Read more »

Zimbabwe: President Says No Justification for Violence

The Herald, 17 January 2019

President Mnangagwa yesterday urged calm and peace in the country, saying he understood the frustration and pain many Zimbabweans were going through as his administration puts in… Read more »

Zimbabwe: Shut-Down May Have Cost Economy U.S.$300 Million - Industry Body

The Herald, 17 January 2019

The economy could have lost business amounting to $300 million over the three-day forced shut-down that started on Monday and ended yesterday, industrialists have said. Read more »

Zimbabwe: Govt to Probe NGOs Inciting Violence

The Herald, 17 January 2019

Government has ordered non-governmental organisations to stop meddling in politics as it has opened investigations into allegations some NGOs funded and incited violent… Read more »

Zimbabwe: President Arrives in Belarus

The Herald, 17 January 2019

President Mnangagwa has concluded his three-day State Visit to Russia, describing it as very fruitful as evidenced by the number of investment deals that he and his delegation… Read more »
InFocus
From the government shutting down the internet to prevent citizens from communicating and organising more protests, arre Read more »

Zimbabwe's Information Minister Monica Mutsvangwa says three people, including a police officer, have died in the protests that started on Monday following a sharp hike in the ... Read more »