Why I Am Seeking Re-Election - Buhari
President Muhammadu Buhari says he is seeking re-election to consolidate on his achievements in the fight against corruption, insecurity and to ensure economic development. Buhari said at a town hall meeting tagged, The Candidates, organised by the MacArthur Foundation in collaboration with NTA and DARIA media.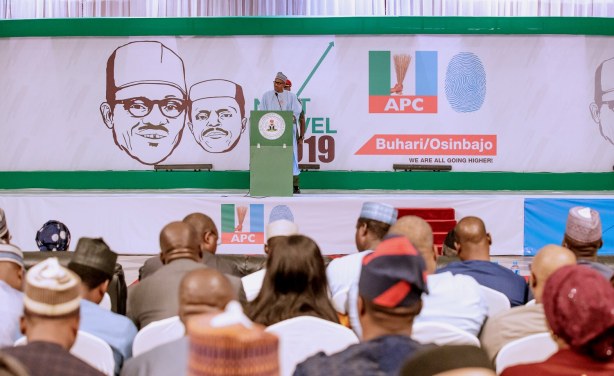 President Muhammadu Buhari at his re-election campaign launch.
Nigeria: Buhari Seeks Re-Election to Continue 'The Good Work He Started in 2015'

Premium Times, 16 January 2019

President Muhammadu Buhari on Wednesday appealed to Nigerians to re-elect him in the February 16 presidential poll so he can continue with "the good work he started in 2015". Read more »

Nigeria: Buhari Challenges Nigerians to Expose Corrupt Officials in Govt

Premium Times, 17 January 2019

President Muhammadu Buhari, has urged persons or organisations with any evidence of corrupt practices against members of his administration to come forward with such evidences to… Read more »

Nigeria: Corruption Fight Not One-Sided - Buhari

Premium Times, 16 January 2019

President Muhammadu Buhari says he is seeking re-election in the 2019 presidential election to consolidate on his achievements in the fight against corruption, insecurity and to… Read more »

Nigeria: Election - Defeat Seems Impossible, Buhari Says

Daily Trust, 17 January 2019

President Muhammadu Buhari yesterday said losing the February 16 presidential election is almost impossible. Read more »

Nigeria: Buhari Parries Question On Conceding Defeat in Election

Premium Times, 16 January 2019

President Muhammadu Buhari was uncategorical when asked on Wednesday night whether he would concede defeat if he fails to score majority votes at next month's presidential… Read more »

Nigeria: No Corrupt Person Will Go Free, Buhari Assures Nigerians

This Day, 17 January 2019

President Muhammadu Buhari has reiterated the resolve of his government not to spare any Nigerian involved in any corrupt practice. Read more »

Nigeria: Why Am Seeking Re-Election - Buhari

Guardian, 16 January 2019

President Muhammadu Buhari says he is seeking re-election in the 2019 presidential election to consolidate on his achievements in the fight against corruption, insecurity and to… Read more »

Nigeria: I Will Continue to Fight Corruption, Buhari Insists

This Day, 17 January 2019

President Muhammadu Buhari has stated that his administration will continue to fight corruption in the country. Read more »

Nigeria: February Polls - If I Lose, It Won't Be First Time - Buhari

Vanguard, 16 January 2019

President Muhammadu Buhari has declared that if eventually he loses the February 19 presidential election, it will not be the first time of him losing elections. Read more »
InFocus
In seeking re-election, President Muhammadu Buhari has pledged to deliver on his promises to improve security, the economy and to tackle corruption. The Nigerian presidential ... Read more »

Nigeria went to polls on February 23 to pick a new president. Currently, President Muhammadu Buhari and former vice president Atiku Abubakar are the frontrunners in the 2019 race ... Read more »