Watchdog Calls Out Zimbabwe's Mnangagwa Over Rights Abuses
Since he took over power, President Emmerson Mnangagwa and other high-level government officials made numerous promises to deliver governance reforms to mark the post-Mugabe era, but took few steps to demonstrate commitment to accountability, justice for human rights abuses, and respect for the rule of law, according to a new report from a leading advocacy group.
As the administration is also struggling to revive the economy, Zimbabweans may be asking themselves more than ever whether or not they should be expecting anything different from Mnangagwa?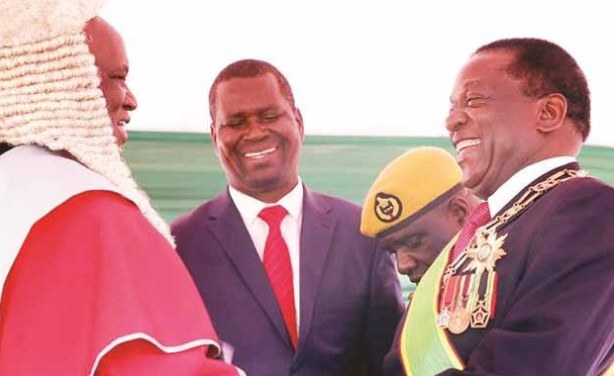 President Emmerson Mnangagwa is congratulated by Chief Justice Luke Malaba after his inauguration (file photo).
Southern Africa: New Zimbabwe Currency is Good Idea - South African Finance Minister

The Herald, 17 January 2019

SOUTH Africa's Finance Minister Tito Mboweni has said Zimbabwe is in a good position to adopt a new currency and that the regional giant would support its northern neighbour's… Read more »

Zimbabwe: Mutsvangwa Slams Govt's 'Forex Allocation Economy'

New Zimbabwe, 17 January 2019

Outspoken Zimbabwe war veterans' association chair, Chris Mutsvangwa has slammed government and the central bank for cherry-picking local firms to favour with scarce foreign… Read more »

Zimbabwe: Globetrotting Mnangagwa Sneers At 'Dreamers' Miffed By His Jaunts

New Zimbabwe, 17 January 2019

President Emmerson Mnangagwa has defiantly dismissed as "dreamers", Zimbabweans who have criticised him for his often expensive but unproductive foreign jaunts. Read more »

Zimbabwe: Killing of Protesters Condemned

CAJ News, 17 January 2019

Human rights groups have decried the killing of protesters by security forces and the subsequent internet shutdown in Zimbabwe. Read more »

Zimbabwe: President Assures Foreign Investors That Their Profits are Safe

The Herald, 17 January 2019

President Mnangagwa has guaranteed the sanctity of private property, and reassured foreign investors that they can repatriate their profits as provided for by Zimbabwe's laws. Read more »

Zimbabwe: Activist Mawarire At It Again

The Herald, 17 January 2019

Evan Mawarire was yesterday arrested for inciting public violence and organising disturbances that rocked the country, causing loss of life and destruction of property. Read more »

Zimbabwe: Activist Accused of Secretly Recording Airport Officials

New Zimbabwe, 17 January 2019

Fierce government critic Makomborero Haruzivishe (26) spent a night in police cells following his arrest for secretly recording and posting on social media, a video of his… Read more »

Zimbabwe: Dozens Charged With Public Violence Over Shutdown Protests

Kubatana.net, 16 January 2019

Several people have appeared in court in Zimbabwe after they were arrested by Zimbabwe Republic Police (ZRP) officers following anti-government protests held in the troubled… Read more »