Police Unmask Suicide Bomber Who Blew Up Nairobi Hotel
21 people lost their lives at the Riverside Complex where the 25-year-old bomber, who was reportedly born in Mombasa, blew himself up. Police have been confirmed that he was involved in attacks that mainly targeted security forces and had travelled to Somalia.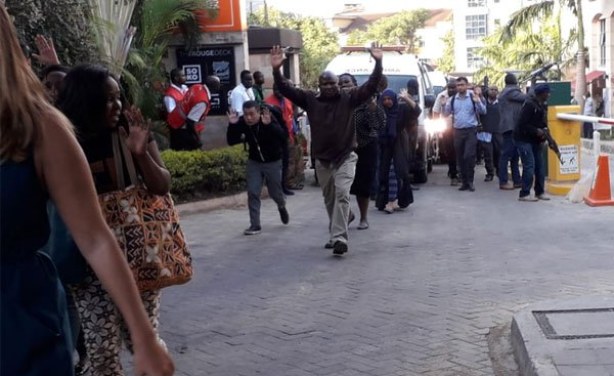 People leaving DusitD2 Hotel following the attack.
Kenya: Tracing the Genesis of Majengo Slums' Connection to Terror Attacks

Nairobi News, 20 January 2019

A story is told of one Tom Otieno, 18, from Kisumu County, born and raised in a Catholic family only to end up as a terrorist. Read more »

Kenya: Riverside Suicide Bomber Named as Mahir Khalid Riziki

Capital FM, 19 January 2019

Police now say they have identified the terrorist who blew himself up on Tuesday during the Riverside Complex terror attack that left 21 people dead. Read more »

Kenya: Dusit Attack - Police Name Suicide Bomber

Nation, 19 January 2019

Police have identified the man who blew himself up on Tuesday during the Dusit terror attack which left 21 people dead. Read more »

Kenya: Dusit Bomber's Wife, Father Arrested in Mombasa

Nation, 19 January 2019

The wife of Dusit suicide-bomber Mahir Khalid Riziki was arrested by counter-terrorism forces in Bakarani, Mombasa, police said. Read more »

Kenya: Wife and Father of Riverside Suicide Bomber Arrested in Mombasa

Capital FM, 19 January 2019

Police have arrested the father and wife of Mahir Khalid Riziki, the suicide bomber who blew himself up during terror attack at Riverside Complex on Tuesday. Read more »
InFocus
The Foreign Correspondents' Association of East Africa has defended incoming New York Times East Africa Bureau Chief Kimiko de Freytas Tamura, over a graphic photo used in her ... Read more »

In the aftermath of the attack on the Riverside Drive hotel and office complex in Nairobi, it is being reported that 11 people have been arrested and the Red Cross has issued a ... Read more »

President Uhuru Kenyatta has announced that the terrorist attack at the Dusit office park that left 14 civilians dead has ended. 700 people were rescued from the complex. Read more »