Burkina Faso Prime Minister, Cabinet Resign
No explanation was given for the resignations but there are speculations that it is linked to the president's plan to breathe new life into the leadership of the country, which is battling a rising wave of jihadist attacks and hostage-taking.
Burkina Faso: Prime Minister, Cabinet Resign

News Agency of Nigeria, 21 January 2019

Burkina Faso's government and Prime Minister Paul Kaba Thieba have resigned, President Roch Marc Christian Kabore said. Read more »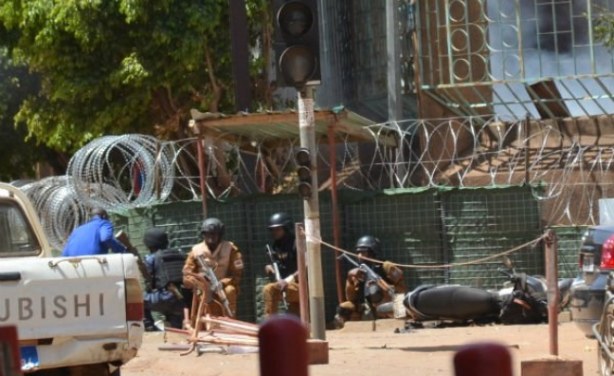 Terrorist attack in Ouagadougou (file photo).
Burkina Faso: Islamist Attacks Prompt State of Emergency

Deutsche Welle, 31 December 2018

A deadly ambush in a northern province on the border to Mali has prompted Burkina Faso's president to declare a state of emergency. Burkina Faso is battling increased attacks by… Read more »

Burkina Faso: Partial State of Emergency Declared

RFI, 31 December 2018

Burkina Faso has declared a state of emergency in several provinces, after ten gendarmes were killed and three wounded in an ambush in the northwest of the country, near the border… Read more »

Burkina Faso: Canadian Kidnapped in Burkina Faso Found Dead

VOA, 18 January 2019

A Canadian geologist kidnapped earlier this week in Burkina Faso has been found dead, the country's security ministry said Thursday. Read more »

Burkina Faso: Kidnapped Canadian Geologist Found Dead

Deutsche Welle, 17 January 2019

Officials in Burkina Faso have said a kidnapped Canadian geologist was found dead in the country's remote northeast, a border region infiltrated by jihadis. Kirk Woodman had worked… Read more »

Burkina Faso: In Eastern Burkina Faso, Local Grievances Help Militancy Take Root

IRIN, 15 January 2019

"The country has never experienced what it is going through now" Read more »

West Africa: More Attacks, 'Persisting Security Challenges' Threaten Progress in West Africa, Sahel

UN News, 10 January 2019

A rising number of attacks by extremist groups, using more sophisticated tactics, risk undermining progress in West Africa and the Sahel, the region's UN envoy told the Security… Read more »
InFocus
As Islamist and other armed groups push into once-peaceful Mopti, to loot and spread their influence, locals hope their young people will spurn the appeal of joining the militants ... Read more »