Zimbabwean Music Icon Tuku Declared National Hero
Musician Oliver Mtukudzi - known as Tuku - died on January 23, the same day his close friend and South African jazz legend Hugh Masekela died last year. News of his death has left fans heartbroken, with many taking to social media to express their condolences.
Zimbabwe: Mtukudzi Is a National Hero

The Herald, 25 January 2019

International music icon Dr Oliver Mtukudzi was yesterday declared a national hero, becoming Zimbabwe's first musician to be accorded such status. President Mnangagwa announced Dr… Read more »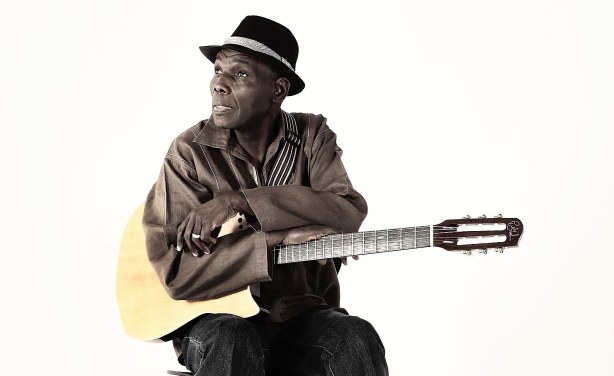 Oliver Mtukudzi.
Zimbabwe: Mtukudzi Declared National Hero - Namibia President Phones to Pay His Respects

New Zimbabwe, 24 January 2019

ZIMBABWE and international music and cultural icon Oliver Mtukudzi has been declared a national hero. Read more »

Zimbabwe: Tuku Declared National Hero

263Chat, 24 January 2019

ZANU PF politburo has granted the late music legend, Oliver Mtukudzi national hero status. Read more »

Zimbabwe: National Hero Status Sought for Tuku

The Herald, 24 January 2019

The National Arts Council of Zimbabwe (NACZ) has approached the Government seeking conferment of national hero status on music icon Oliver Mtukudzi. Read more »

Zimbabwe: Farewell Samanyanga - Tribute From Thomas Mukanya Mapfumo

This is Africa, 24 January 2019

In Zimbabwe we say Wafa Wanaka. But this is a generic phrase normally used for one whose good works are hard to put together after he has gone. With Tuku, we say matipa matitorera.… Read more »

Zimbabwe: Tribute to Oliver Mtukudzi - Zimbabwe's 'Man With the Talking Guitar'

The Conversation Africa, 24 January 2019

Musician Oliver Mtukudzi, who died at the age of 66, was a great cultural ambassador for Zimbabwe. Known to his fans as Tuku, he was a cultural icon for the southern African… Read more »

Zimbabwe: Death of an Icon - Obituary of Dr Oliver Mtukudzi

This is Africa, 24 January 2019

The death of famed Zimbabwean musician and social commentator lovingly known as "Tuku" has plunged the continent in mourning. Mtukudzi, a singer-songwriter, businessman,… Read more »

Zimbabwe: A Tribute to the Social Activist Tuku

This is Africa, 24 January 2019

Oliver Mtukudzi was the husky voice of the people, decrying social injustice and affirming the human rights of all. Read more »
Video
Author:

SABC Digital News

Publisher:

Publication Date:

24 January 2019
Zimbabwe: Tributes Pour In After Death of Music Star Oliver Mtukudzi

New Zimbabwe, 24 January 2019

Zimbabwean music superstar Oliver Mtukudzi has died. Read more »

Zimbabwe: Nation Loses Musical Icon Oliver "Tuku" Mtukudzi

This is Africa, 23 January 2019

Africa has lost a musical icon with the death of legendary Zimbabwean artist Oliver "Tuku" Mtukudzi. He was one of Africa's top musicians. The continent mourns the death of an… Read more »

Zimbabwe: Minister Coventry - Govt Considering 'Special Honour' for Tuku

New Zimbabwe, 24 January 2019

The government will consider a "special honour" for global music superstar and Zimbabwean cultural icon Oliver Mtukudzi, Arts and Recreation Minister Kirsty Coventry has said. Read more »

Zimbabwe: Thomas 'Mukanya' Mapfumo Mourns Oliver Mtukudzi

New Zimbabwe, 24 January 2019

IN Zimbabwe we say Wafa Wanaka. But this is a generic phrase normally used for one whose good works are hard to put together after he has gone. With Tuku, we say matipa matitorera.… Read more »

Zimbabwe: Most Memorable Songs of Afro-Jazz Legend Oliver 'Tuku' Mtukudzi

Guardian, 23 January 2019

Zimbabwean Afro-jazz legend, Oliver "Tuku" Mtukudzi who won a following across the globe died on Wednesday at the age of 66. Read more »

Zimbabwe: Malema's EFF Mourns Tuku

263Chat, 23 January 2019

South Africa opposition party, Economic Freedom Fighters (EFF) led by Julius Malema has sent their condolences to music lovers following the death of music legend, Oliver "Tuku"… Read more »

Zimbabwe: President Mourns Legendary Tuku

The Herald, 24 January 2019

PRESIDENT Mnangagwa yesterday said he learnt with deep shock and great sadness of the death of international music icon Dr Oliver "Tuku" Mtukudzi, describing him as an expression… Read more »

Zimbabwe: Mliswa Campaigns for National Hero Status for Tuku

263Chat, 23 January 2019

Norton Member of Parliament (MP) Temba Mliswa has probed President Emmerson Mnangagwa to award the late Oliver Mtukudzi national hero status. Read more »
InFocus
allAfrica's Melody Chironda has pulled together some of her favourite Oliver "Tuku" Mtukudzi's songs from Youtube. Have a listen, and let us know what your favo Read more »
Video
Author:

Blacklist Dux

Publisher:

Publication Date:

8 September 2016

Winky D ft Oliver Mtukudzi Panorwadza Moyo see more »
InFocus
Oliver Mtukudzi has died at Avenues Clinic in Harare. With 66 albums to his name, he was one of Zimbabwe's top musicians and lead of the band The Black Spirits. Read more »