Nigerians Flee to Cameroon After Boko Haram Vows To Attack Town
The United Nations High Commission for Refugees has said that at least 30,000 people fled the Nigerian town of Rann amid fears of renewed attacks by Boko Haram militants. The residents panicked and fled after the multinational Joint Task Force, which had gone to secure Rann, withdrew from the town.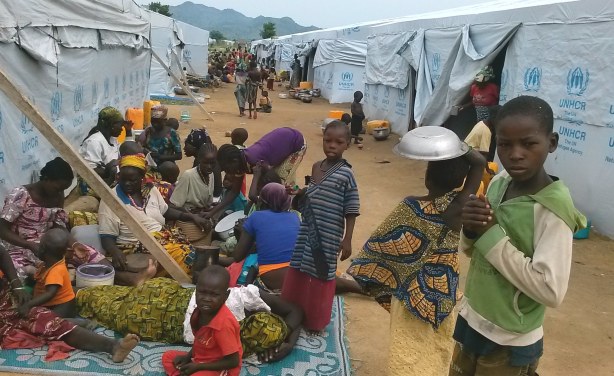 Refugees from northern Nigeria in Cameroon's Minawao camp (file photo).
Nigeria: UNHCR Laments Displacement of 320,000 Persons in North- East in Four Months

Vanguard, 29 January 2019

The United Nations High Commission for Refugees UNHCR has lamented the upsurge in the number of displaced persons in Borno State as well as the flight of thousands of refugees into… Read more »

Nigeria: Borno Govt to Enlist Hunters, Vigilance Groups to Fight Boko Haram

Vanguard, 28 January 2019

Borno State government plans to enlist the services of local hunters and vigilance groups to reinvigorate the military's counter-terrorism operations in the state. Read more »

Nigeria: Saving IDPs From Starvation

This Day, 24 January 2019

Kayode Fasua reports on the humanitarian tragedy arising from a recent overrunning of Rann, a Borno community sharing border with Cameroon by insurgents Read more »

Nigeria: Satellite Images Show 'Charred Remains' of Town After Boko Haram Attack

AI London, 18 January 2019

New satellite images analysed by Amnesty International show the horrific aftermath of a Boko Haram attack that devastated the town of Rann, in the Borno State north-east Nigeria,… Read more »

Nigeria: Many Soldiers, Civilians Missing After Boko Haram Attacks in Borno

Daily Trust, 29 January 2019

Many civilians were feared killed and dozens missing after Boko Haram insurgents attacked Ran of Kala-Balge Local Government Area of Borno State yesterday. Read more »

Cameroon: UNHCR Calls on Cameroon to Halt Forcible Returns of Nigerian Refugees

VOA, 21 January 2019

The UN refugee agency says it is shocked by reports that Cameroonian authorities have forcibly returned some 9,000 Nigerian refugees who fled across the border earlier in the week… Read more »

Nigeria: How Boko Haram Attack Destroyed Nigerian Community, Rann

Premium Times, 20 January 2019

More information is gradually emerging of how a Boko Haram attack on Rann in Borno State virtually turned the town into a graveyard. Read more »
InFocus
In a 180-word memorandum, the Chief of Army Staff Tukur Buratai sent army commanders a set of operational guidelines warning them of grave consequences should they abandon their ... Read more »