Home-Grown Terror a Worsening Threat for Kenya
The latest attack - claimed by extremist group al-Shabaab - shows that not only is the terror threat far from over, but it is increasingly a local problem, with logistical support from Somalia. Most of the 18 who appeared in court were from counties like Isiolo, Nyeri, Kiambu, Mombasa and Machakos - hundreds of kilometres from the Somali border. This means al-Shabaab's influence and cells may have penetrated many parts of the country, writes Duncan E Omondi Gumba and Mohamed Daghar for Institute For Security Studies.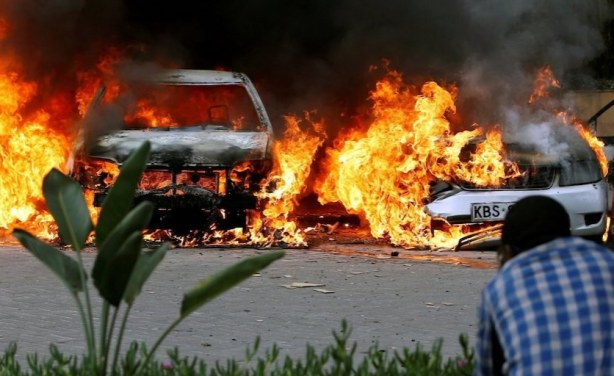 Terror attack scene in Nairobi (file photo).
Kenya: Revealed - How Al-Shabaab Are Circulating Millions of Terror Money Unnoticed

Nairobi News, 29 January 2019

When Mr Hassan Abdi Nur, a mobile money agent, was arraigned for the 14 Riverside Drive attack, it must have come as a shock to people in similar businesses that the nature and… Read more »

Kenya: Shabaab's New, Efficient Ways of Making Money

Nation, 29 January 2019

When Mr Hassan Abdi Nur, a mobile money agent, was arraigned for the 14 Riverside Drive attack, it must have come as a shock to people in similar businesses that the nature and… Read more »

Kenya: Police Allowed to Hold for 7 Days Suspected Al-Shabaab Recruits

Nation, 29 January 2019

A Kwale court on Tuesday allowed police to detain 17 suspects arrested over suspected links with Somalia-based terror group Al-Shabaab. Read more »

Kenya: Attack Shows That Al-Shabaab Is Still a Potent Threat to Kenya

The Conversation Africa, 17 January 2019

The terror attack in Nairobi was a tragedy. But also, to some extent, unexpected. Kenya suffered relatively frequent attacks between 2013 and 2016 - Westgate in 2013, the Mpeketoni… Read more »

Kenya: Why Al-Shabaab Targets Kenya, and What Can Be Done to Stop Attacks

The Conversation Africa, 16 January 2019

Al-Shabaab has claimed responsibility for the terror attack in Nairobi in which at least 14 people were killed and scores injured. The question the terror attack raises is why the… Read more »
InFocus
The improvised explosive device blast comes 12 days after the Riverside complex attack that claimed the lives of 21 people. Read more »

Foreign Affairs Chief Administrative Secretary, Ababu Namwamba, has said there is a need to plug funding gaps and boost counter-terrorism efforts by the troops from Kenya, ... Read more »

In two seperate memorial services attended by families, friends and colleagues, the 12 DusitD2 and Cellulant staff members were showered with hearty tributes by those who worked ... Read more »