Atiku May Give Amnesty to Corrupt People Who Surrender Loot
Atiku Abubakar, the presidential candidate of the Peoples Democratic Party, has said that he will consider giving amnesty to looters in order to recover the funds and revive and develop Nigeria's economy. The former vice president said this on The Candidates, a programme organised for presidential candidates and hosted by Kadaria Ahmed on the Nigerian Television Authority.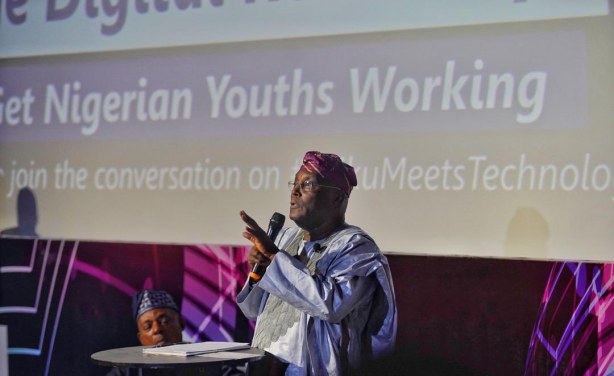 PDP presidential aspirant, Atiku Abubakar.
Nigeria: Atiku Criticises Buhari's Handling of Shiite Crisis

Premium Times, 31 January 2019

Atiku Abubakar, the presidential candidate of the Peoples Democratic Party, has condemned the killing of Shiites by the Nigerian Army. Read more »

Nigeria: Atiku to Consider Amnesty for Corrupt People Willing to Surrender Loot

Premium Times, 30 January 2019

An opposition presidential candidate, Atiku Abubakar, on Wednesday said he would consider granting amnesty to corrupt persons willing to surrender their loot. Read more »

Nigeria: I'll Consider Amnesty for Corrupt Persons Willing to Surrender Loot, Says Atiku

This Day, 31 January 2019

The presidential candidate of the Peoples Democratic Party (PDP), Alhaji Atiku Abubakar, last night said he would consider granting amnesty to corrupt persons willing to surrender… Read more »

Nigeria: Election Rigging, Nigeria's Greatest Corruption, Says Atiku

Guardian, 31 January 2019

The presidential candidate of the Peoples Democratic Party (PDP), Atiku Abubakar, has identified election rigging as the biggest corruption facing the country. Read more »

Nigeria: I'm a Bridge Between Nigeria's Young and Old - Atiku

Premium Times, 30 January 2019

Atiku Abubakar, the presidential candidate of the Peoples Democratic Party, has described himself as the bridge between Nigeria's young and old generations. Read more »

Nigeria: Obasanjo - Why Atiku Is a Better Candidate

This Day, 31 January 2019

Former President Olusegun Obasanjo has again defended his decision to support the presidential candidate of the Peoples Democratic Party (PDP), Alhaji Atiku Abubakar, saying he has… Read more »

Nigeria: Three Reasons I Support Atiku for President - Obasanjo

Premium Times, 30 January 2019

A former Nigerian President, Olusegun Obasanjo, has again defended his decision to support the presidential candidate of the Peoples Democratic Party (PDP), Atiku Abubakar. Read more »

Nigeria: How I Co-Owned Intels While Being a Top Customs Officer - Atiku

Premium Times, 30 January 2019

Atiku Abubakar, the presidential candidate of the Peoples Democratic Party, on Wednesday denied using his position as a top government official to enrich himself. Read more »

Nigeria: Boko Haram: I'll Deal With Incompetent Military Commanders - Atiku

Premium Times, 30 January 2019

The presidential candidate of the Peoples Democratic Party, Atiku Abubakar, has said he would deal with any military commanders under whose watch Nigerian soldiers face casualties… Read more »

Nigeria: Nigerians React As Atiku and Obi Appear On 'The Candidates'

Guardian, 30 January 2019

Peoples Democratic Party (PDP) presidential hopefuls, Atiku Abubakar and Peter Obi were on the hot seat today, the 30th of January at the last edition of "The Candidates" which… Read more »

Nigeria: Crude Oil Not Sold for U.S.$100 in 16 Years of PDP - Atiku

Daily Trust, 30 January 2019

The presidential candidate of the Peoples Democratic Party (PDP) on Wednesday punctured the claim by the President Muhammadu Buhari-led federal government that oil price hovered at… Read more »

Nigeria: I Will Concede If I Lose Free, Fair Elections - Atiku

Premium Times, 30 January 2019

Atiku Abubakar, the presidential candidate of the Peoples Democratic Party, has said he would concede defeat if he loses the 2019 elections, provided the exercise is adjudged free… Read more »
InFocus
Atiku Abubakar, presidential candidate of the Peoples Democratic Party, has described the Nigerian National Petroleum Corporation as a "mafia organisation", vowing to privatise it ... Read more »

Nigeria went to polls on February 23 to pick a new president. Currently, President Muhammadu Buhari and former vice president Atiku Abubakar are the frontrunners in the 2019 race ... Read more »