Arrest Warrant Issued For Former Zimbabwe Finance Minister Chombo
It seems a bug has hit most of the former ministers that have been accused of corruption as evidenced by claims that they are suffering from various health ailments since the time of their ouster. From former tourism minister Walter Mzembi, former local government minister Saviour Kasukuwere, former Zanu-PF Youth League leader Kudzanayi Chipanga, and now former finance minister Ignatius Chombo has missed court with claims he was ill and bedridden.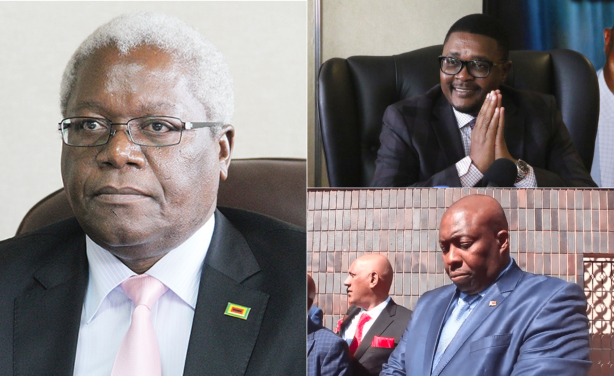 Former minister Ignatius Chombo (left), Walter Mzembi (top) and Saviour Kasukuwere.
Zimbabwe: Mzembi in Critical Condition Says Sikhala

The Herald, 28 January 2019

Former Tourism and Hospitality Industry Minister Walter Mzembi is in a critical condition and according to his lawyer Mr Job Sikhala, he is unable to stand trial. Read more »

Zimbabwe: Former Minister Kasukuwere Accuses Magistrate of Being Biased

The Herald, 31 January 2019

Former Local Government Minister Saviour Kasukuwere has lost his appeal to stay the proceedings in his trial on charges of criminal abuse of office, pending a review of the same… Read more »

Zimbabwe: Prosecutor-General Urged to Speed Up High Profile Corruption Cases

Kubatana.net, 25 January 2019

The Anti-Corruption Trust of Southern Africa (ACT-SA) welcomes the appointment of a substantive Prosecutor General for Zimbabwe but urges him to expedite the prosecution of high… Read more »

Zimbabwe: Chombo's Trial Postponed, Ex-Minister Gets His Passport Back

New Zimbabwe, 17 September 2018

Former Finance minister Ignatius Chombo's fraud trial was last week postponed pending a High Court's decision on an application challenging his arrest. Read more »

Zimbabwe: Former Finance Minister Chombo Corruption Trial Further Delayed

New Zimbabwe, 23 October 2018

Former Finance Minister Ignatius Chombo's trial on corruption charges was Monday again pushed to end of next month, pending a High Court's determination on his application for stay… Read more »

Zimbabwe: Chombo Faces Fresh Corruption Charges

New Zimbabwe, 17 February 2018

FORMER finance minister Ignatius Chombo has been arrested again, this time for allegedly demanding a bribe from a fish farmer. Read more »
InFocus
The ongoing trial of former finance minister Ignatius Chombo on corruption charges is likely to open a can of worms as it continues to suck in more people. Chombo was arrested ... Read more »

The country has seen rapid change particularly on the political front with former president Robert Mugabe ousted after ruling for over 30 years, and being replaced by Read more »