What Ramaphosa Said During His State of the Nation Address
South Africa's President Cyril Ramaphosa announced the restructuring of state-owned power utility Eskom, an election date of 8 May, a reconfiguration of the intelligence service and the establishment of a State Capture investigative directorate in the National Prosecution Authority in his State of the Nation address. The Daily Maverick says that in a wide-ranging and hard-hitting speech, the president dismissed critics of his administration and showcased the appointment of a new prosecutions boss and the process towards a new tax boss as lynchpin achievements of his year in office.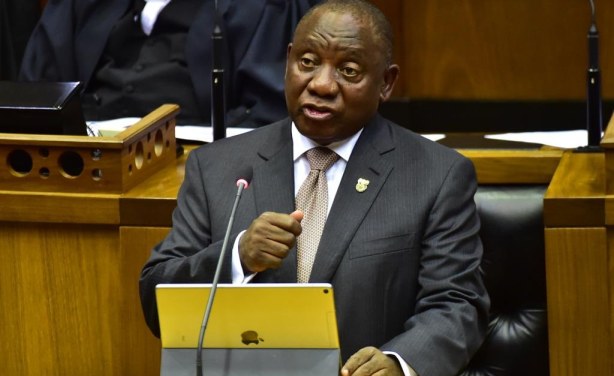 President Cyril Ramaphosa delivers the annual State of the National Address, his second since the recall of former President Jacob Zuma in February last year.
South Africa: State-Owned 'Land Parcels' Identified for Expropriation - Ramaphosa

News24Wire, 7 February 2019

President Cyril Ramaphosa says state-owned "land parcels" have been identified for the purpose of expropriation without compensation. Read more »

South Africa: Ramaphosa to Re-Establish National Security Council

News24Wire, 7 February 2019

President Cyril Ramaphosa has announced some big changes awaiting the nation's security agencies during his 2019 State of the Nation Address on Thursday. Read more »

South Africa: After the Kleptocrat, South Africa Gets a Statesman and a Nerd

Daily Maverick, 8 February 2019

President Cyril Ramaphosa was nervous and so was Parliament ahead of his second State of the Nation speech. The EFF had threatened to turn Bosasa's relationship with the… Read more »

South Africa: Details, Promises, Thuma Mina 2.0 - an Election Speech Designed to Lift SA's Spirits

Daily Maverick, 8 February 2019

Ramaphosa's State of the Nation Address hit all the right notes: from restructuring Eskom to removing the biggest risk to the economy - the quantum of the bailout was kicked for… Read more »

South Africa: Eskom to Be Restructured, May 8 Poll Date Set and NPA Boss Gets a State Capture Investigative Directorate

Daily Maverick, 7 February 2019

President Cyril Ramaphosa announced the restructuring of Eskom, the election date of 8 May, a reconfiguration of the intelligence service and the establishment of a State Capture… Read more »

South Africa: SONA and the Recurring Side-Shows of Discontent

Daily Maverick, 7 February 2019

Every year, the State of the Nation Address is marked by public protests outside Parliament. This year the Education Union of South Africa took its challenges close to Parliament's… Read more »

South Africa: Saving Eskom - No Immediate Privatisation, Unions Still Not Happy

Daily Maverick, 7 February 2019

And then there were three. South Africa's failing electricity parastatal, Eskom, is to be split into three separate entities in a restructuring exercise announced by President… Read more »

South Africa: Full Speech - President Cyril Ramaphosa's State of the Nation

Govt of SA, 7 February 2019

STATE OF THE NATION ADDRESS BY PRESIDENT CYRIL RAMAPHOSA Read more »

South Africa: On a Blistering Hot Cape Day, Ramaphosa Gets to Have His Say

Daily Maverick, 7 February 2019

Ahead of the 2019 State of the Nation Address, all manner of disruptions were anticipated. The EFF being forcibly removed for protesting over President Cyril Ramaphosa's acceptance… Read more »

South Africa: All Eyes On SONA 2019

SAnews.gov.za, 6 February 2019

It will be lights, camera, and action this evening as President Cyril Ramaphosa takes to the podium in the National Assembly in Parliament to deliver his second State of the Nation… Read more »

South Africa: Your Guide to the 2019 State of the Nation Address

Parliament of South Africa, 5 February 2019

The State of the Nation Address (SONA) is called in terms of Section 42(5) of the Constitution by the President of the Republic. It is a joint sitting of the two Houses of… Read more »
Video
Author:

Bush Radio

Publisher:

Publication Date:

5 February 2019

South Africa's State of the Nation Address is taking place at parliament on February 7, 2019. Community radio station Bush Radio took to the streets ... see more »
South Africa: Why You Should Not Miss SONA

SAnews.gov.za, 1 February 2019

The State of the Nation Address (SONA) should excite everybody, especially those who pay taxes and those who exercise their democratic right to vote. They should be interested in… Read more »
InFocus
Former president Jacob Zuma has not accepted an invitation to attend this year's State of the Nation Address, speaker of the National Assembly Baleka Mbete and chairperson of the ... Read more »