How Bobi Wine's Resistance Echoes U.S.'s Civil Rights Struggle
Bobi Wine has meet with the U.S. Civil Rights Movement leader Jesse Jackson who has just like him fought an oppressive government through non-violent resistance two decades ago. Wine who has said he is considering running for presidency says he is encouraged by Jackson's example to soldier on daily, through trials and tribulations, in his quest for freedom, justice & equal opportunity for Ugandans.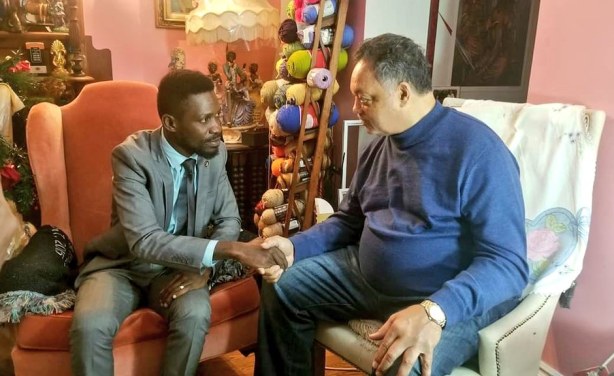 Bobi Wine meets with Civil Rights Movement in the United States Rev Jasey Jesse Jackson Sr.
InFocus
"Many people have come for me calling for me to stand; we have been discussing this issue with my team, and I must say, I and my team are seriously considering challenging ... Read more »

Robert Kyagulanyi Ssentamu, better known as Bobi Wine, is the 36-year-old who uses his politically charged songs to call for change in the country that President Yoweri Museveni ... Read more »

Singer-turned-politician Robert Kyagulanyi, better known as Bobi Wine, spoke about Uganda's current political situation, and about the abuse he suffered while under police custody ... Read more »