Nigeria Govt Warns U.S. on Speaking Out of Turn on Elections
The U.S., Britain and the European Union have warned against vote-rigging and election violence, and also expressed concern over President Muhammadu Buhari's suspension of Nigeria's top judge Walter Onnoghen. Now 42 parties are threatening to boycott the signing of the final peace accord unless the National Peace Committee includes conditions for free, fair and credible elections. The All Progressives Congress hit back, accusing the "diplomats for making comments that are capable of undermining the integrity of the election".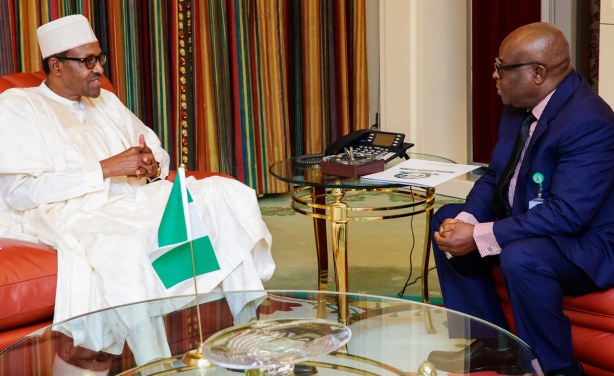 President Muhammadu Buhari with Chief Justice Walter Onnoghen at the State House last year.
Nigeria: 42 Political Parties Threaten to Boycott Final Peace Accord Signing

This Day, 12 February 2019

The chairmen of 42 political parties have threatened to boycott or stage a walkout during the signing of the final peace accord ceremony billed to be witnessed by a former… Read more »

Nigeria: I'm Not an Apostle of Bloodshed - Buhari

Vanguard, 11 February 2019

President Muhammadu Buhari has warned politicians against resorting to violence ahead of Saturday's Presidential and National Assembly Elections, saying that he is not an apostle… Read more »

Nigeria: Buhari's 'Violence' Comment a Joke - Campaign Council

Premium Times, 12 February 2019

The campaign council of President Muhammadu Buhari has said the comment made by Mr Buhari in Zamfara State was a "joke". Read more »

Nigeria: APC Warns U.S., Others Against Unguarded Statements On Elections

This Day, 12 February 2019

The All Progressives Congress (APC) Presidential Campaign Council yesterday warned the United States Ambassador, Mr. Stuart Symington, and other diplomats that have been critical… Read more »

Nigeria: Elections - World Watching Nigeria - U.S. Envoy

Premium Times, 8 February 2019

The United States Ambassador to Nigeria, Stuart Symington, has tasked the government and people of Nigeria to ensure a peaceful and credible general elections because "the world is… Read more »

Nigeria: Clinton Cancels Trip to Nigeria Ahead of Elections

Vanguard, 11 February 2019

Former US President Bill Clinton has canceled his trip to Nigeria ahead of Saturday's general elections, saying the visit could be "politicized." Read more »

Nigeria: We're Here to Observe, Not Monitor - Observer Team

Vanguard, 12 February 2019

The Commonwealth Observer Mission to Nigeria, led by former Tanzanian President, Dr Jakaya Kikwete, has said that it is in the country not to monitor but to only observe the… Read more »

Nigeria: 2019 Election - Survey Shows Nigerians Are Eager to Vote

Guardian, 11 February 2019

There are indications that more Nigerians may be riding on the path of involving actively in voting ahead of the 2019 Presidential election to be held next weekend. Read more »

Nigeria: My Victory Is Sure - Moghalu Boasts

Vanguard, 12 February 2019

While many Nigerians are focused on the Peoples Democratic Party, PDP and the All Progressives Congress, APC candidates, the candidate of the Young Progressives Party, YPP,… Read more »

Nigeria: After the Voting Is Over What Next?

Daily Trust, 12 February 2019

This time next week Nigerians would have cast their votes in the 2019 Presidential election. Read more »

Nigeria: El-Rufai's Statement Not Directed At Us, Say EU Observers

Guardian, 12 February 2019

The European Union Election Observation Mission (EU EOM) to Nigeria 2019 has said that the threat by the Kaduna State Governor, Nasir El-Rufai that foreign nationals who interfere… Read more »

Nigeria: Crossfire - Buhari, Atiku Visited 'Enemy Ground' in Kwara, Rivers

Vanguard, 12 February 2019

The presidential campaigns of the two major contenders, Muhammadu Buhari of the All Progressives Congress, APC and Atiku Abubakar of the Peoples Democratic Party, PDP met at a… Read more »

Nigeria: Boundary Dispute Threatens 2019 Polls in Anambra

Vanguard, 12 February 2019

There were fears yesterday that the protracted boundary dispute between Umuenwelum Anam and Nzam community in Anambra West local government area of Anambra State could lead to… Read more »

Nigeria: Why Buhari, Obasanjo Are Quarreling - El-Rufai

Premium Times, 12 February 2019

The Kaduna State governor, Nasir El-Rufai, has given insights into why he thinks President Muhammadu Buhari is having a political row with former President Olusegun Obasanjo. Read more »
InFocus
With less than a week until the presidential polls, President Muhammadu Buhari has disclosed that the Economic and Financial Crimes Commission has raised concerns over laundered ... Read more »

As Nigeria prepares to hold elections on February 16, a U.S.-based polling firm Williams and Associates, has predicted victory for Atiku Abubakar in the forthcoming presidential ... Read more »

Nigeria went to polls on February 23 to pick a new president. Currently, President Muhammadu Buhari and former vice president Atiku Abubakar are the frontrunners in the 2019 race ... Read more »