Nigerian Presidential Candidates Sign Another Peace Deal
The presidential candidates have signed an electoral peace deal to ensure violence-free elections. Nigerians go to the polls this Saturday to elect a president and members of the National Assembly. The elections for governors and members of state Houses of Assembly will be held on March 2, 2019.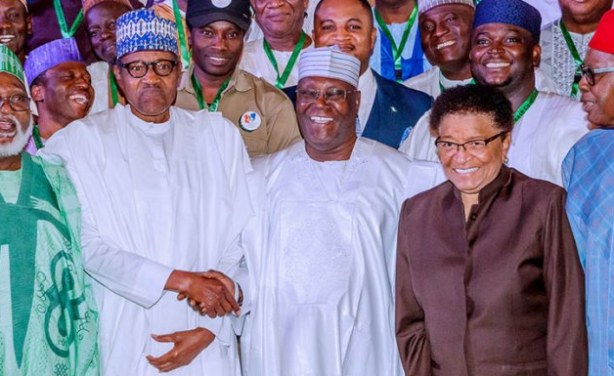 Buhari, Atiku, other presidential candidates sign another peace accord.
Nigeria: Again, Buhari, Atiku, Others Commit to Peaceful Election

This Day, 14 February 2019

For second time in three months, leading politicians in the country yesterday in Abuja took turns to sign a bond, committing them to peaceful conduct during the general election,… Read more »

Nigeria: Peace Accord - Keep to Your Words, Switzerland Tells Buhari, Atiku

Daily Trust, 14 February 2019

Switzerland, yesterday, congratulated all the candidates who signed the Peace Accord and called on them to keep to their word during and after the general elections. Read more »

Nigeria: In Abuja, Different Rule Exists for Buhari, Opposition Presidential Candidate

Premium Times, 14 February 2019

Seven months after it denied an opposition presidential aspirant the use of a public space, the Abuja management approved the same venue for President Muhammadu Buhari and the… Read more »

Nigeria: Police Bar Personnel From Carrying Firearms At Polling Centres

Premium Times, 13 February 2019

The acting Inspector-General of Police (I-G), Mohammed Adamu, has said that no security personnel would be allowed to carry firearms at polling centres during the elections. Read more »

Nigeria: Army Chief Inaugurates 'Situation Room' for Elections

Premium Times, 13 February 2019

The Chief of Army Staff, Tukur Buratai, on Wednesday inaugurated the "Nigerian Army Situation Room for the 2019 General Elections' Security Monitoring". Read more »

Nigeria: We're Ready for Elections - Ruling Party

Leadership, 14 February 2019

Fourty eight hours to the Presidential and National Assembly elections, the Presidential Campaign Council (PCC) of the All Progressives Congress (APC) has said that the party is… Read more »

Nigeria: You Won't Regret Giving Me Your Votes - Buhari

Daily Trust, 14 February 2019

President Muhammadu Buhari has assured Nigerians that they will not regret giving him another chance to serve as president. Read more »

Nigeria: Elections: Buhari, Atiku, Other Presidential Candidates Sign Another Peace Accord

Premium Times, 14 February 2019

Top presidential candidates on Wednesday signed a peace accord pledging to ensure a violence-free election. Read more »

Nigeria: Don't Compare Atiku With Buhari, Says UK Campaign Group

Guardian, 14 February 2019

Some Nigerians resident in the United Kingdom (UK) have declared their support for Peoples Democratic Party (PDP) candidate, Atiku Abubakar in Saturday's race for Aso Rock. Read more »

Nigeria: Candidates, Electorate's Health Suffers As Campaigns Intensify Ahead of Polls

Guardian, 14 February 2019

The elections are here again. On Saturday, February 16, 2019, Nigerians will choose whether to reelect President Muhammadu Buhari or to vote him out with their Permanent Voters… Read more »

Nigeria: Buhari, Atiku Sign Final Peace Accord

Leadership, 14 February 2019

As Nigeria holds a historical presidential election on Saturday, all the presidential candidates led by President Muhammadu Buhari of the All Progressives Congress (APC) and his… Read more »

Nigeria: My Ambition Not Worth Blood of Any Nigerian - Atiku

Vanguard, 13 February 2019

"May I use this opportunity to renew my profound gratitude, firstly to my party, the Peoples Democratic Party (PDP), and then to General Abdulsalami Abubakar and members of the… Read more »

Nigeria: Why Nigeria Is More Important Than Any Political Party - Buhari

Premium Times, 13 February 2019

REMARKS BY HIS EXCELLENCY, MUHAMMADU BUHARI, PRESIDENT OF THE FEDERAL REPUBLIC OF NIGERIA AT THE FINAL SIGNING OF PEACE ACCORD ON 2019 PRESIDENTIAL ELECTION AT THE INTERNATIONAL… Read more »

Nigeria: 2019 Poll - Opportunity to Strengthen Nigeria's Unity, Says Buhari

Guardian, 13 February 2019

President Muhammadu Buhari on Wednesday in Abuja advised Nigerians to see the forthcoming general election as an opportunity to strengthen the country's unity. Read more »

Nigeria: Buhari, Atiku Sign Accord On Polls Outcome Today

Daily Trust, 13 February 2019

President Muhammadu Buhari of the All Progressives Congress (APC) and former Vice President Atiku Abubakar of the Peoples Democratic Party (PDP) will today sign a peace accord on… Read more »
InFocus
With less than a week until the presidential polls, President Muhammadu Buhari has disclosed that the Economic and Financial Crimes Commission has raised concerns over laundered ... Read more »

Three electoral commission offices housing voting materials have been burned down in the days before the country's presidential election. The Independent National Electoral ... Read more »