Former Crane Bank Boss Wants Bank of Uganda to Pay Up
The former owner of the closed Crane Bank, Sudhir Ruparelia says the Bank of Uganda is illegally holding over U.S.$23 million amassed by shareholders to help Crane Bank stay afloat. A parliamentary committee has been investigating the Bank of Uganda for alleged irregularities in the closure of seven commercial banks including Crane Bank, some of which were shut down 20 years ago.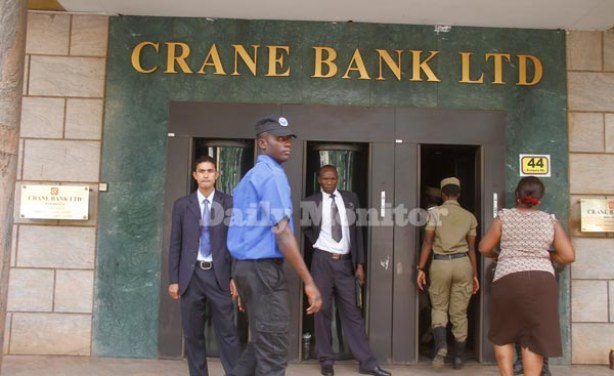 Police officers enter Crane Bank main branch in Kampala to beef-up security shortly after Governor Emmanuel Mutebile announced that BoU had taken over management of the bank.
Uganda: I Was Coerced to Buy National Bank of Commerce - Sudhir

Independent (Kampala), 7 February 2019

Businessman Sudhir Ruparelia says he was forced to acquire National Bank of Commerce (NBC), days after it was closed by the Bank of Uganda. Crane Bank Limited, according to Sudhir,… Read more »

Uganda: BoU, Sudhir Given Up to April to Resolve Dispute

Monitor, 24 January 2019

Bank of Uganda (BoU) and city property mogul Sudhir Ruparelia are in advanced talks to have the multibillion commercial dispute between them sorted out of court, Daily Monitor has… Read more »

Uganda: BoU's Takeover of Crane Bank, 20 Years After Greenland Bank Closure

Monitor, 20 September 2018

This week, The Observer made available again a 10-year-old interview of Dr Suleiman Kiggundu narrating the details of the closure of Greenland Bank in April 1999 after an… Read more »

Uganda: Mao Links Muhwezi To Sudhir's Crane

New Vision, 5 November 1997

The controversy over the tenancy agreement between URA and Meera Investments limited yesterday took a dramatic turn when Mr Nobert Mao (Gulu Municipality) insisted that Brig. Jim… Read more »
InFocus
President Yoweri Museveni has rejected attempts by cabinet to stop the parliamentary probe into operations at the Bank of Uganda. He said the bank's officials "lied" to him about ... Read more »

A parliamentary committee is investigating the Bank of Uganda for alleged irregularities in the closure of seven commercial banks, some of which were shut down 20 years ago. Also ... Read more »