Somalia Moves to Calm Diplomatic Tensions With Kenya
The Somali government has said it "regrets" Kenya's decision to instruct its ambassador to leave Kenya "without prior consultation" with the government of Somalia. The Kenyan government on the other hand says the move to recall its ambassador and chase Somali's envoy out of the country is the consequence of the "most regretful and egregious decision" by the federal government to "auction off" oil and gas blocks in Kenya territory.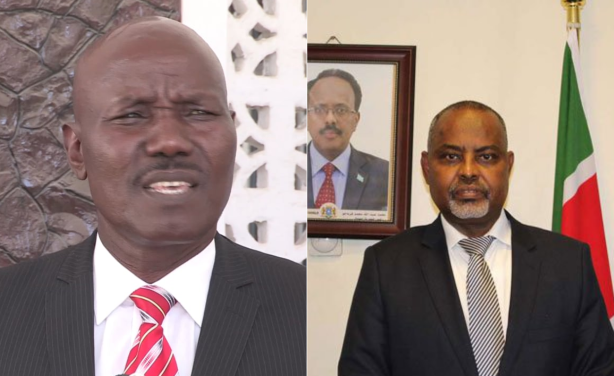 From left: Recalled Kenya's envoy to Somalia Lieutenant-General (Rtd) Lucas Tumbo and expelled Somali envoy to Kenya Mohamoud Ahmed Nur alias Tarzan.
Somalia: 'We've Not Sold Kenya Oil Blocks,' Says Somalia

Shabelle, 18 February 2019

Somalia has denied auctioning Kenya's potential maritime zones that are in dispute at the International Court of Justice, Read more »

Somalia: Expelled Ambassador Arrives in Mogadishu

Nation, 17 February 2019

Somali ambassador to Kenya Mohamoud Ahmed Nur alias Tarzan arrived at Mogadishu's Aden Abdulle International Airport early Sunday, media reported. Read more »

Somalia: Govt Protests Kenya's Move to Kick Out Envoy, Denies Selling Oil Blocks in Disputed Area

Dalsan Radio, 17 February 2019

Somali has protested a move by Kenya to order her ambassador out over Indian Ocean maritime border dispute, denies auctioning oil and gas blocks in disputed areas. Read more »

Kenya: Kenya Recalls Ambassador to Somalia, Orders Somali Envoy Out

Shabelle, 17 February 2019

Kenya has recalled its ambassador in Mogadishu and ordered Somali envoy out of the country over alleged auctioning of oil and gas blocks in Kenya's maritime territorial area that… Read more »

Kenya: Govt Recalls Envoy to Somalia

Nation, 16 February 2019

Kenya has recalled its ambassador in Mogadishu and ordered Somali envoy out of the country over alleged auctioning of oil and gas blocks in Kenya's maritime territorial area… Read more »

Kenya: Kenya Recalls Ambassador to Somalia After Mogadishu Auctions Oil Blocks in Disputed Area

Capital FM, 16 February 2019

Kenya has recalled the ambassador to Somalia Lt. General (Rtd) Lucas Tumbo to Nairobi for 'urgent' consultations after the Somali Government unilaterally auctioned off oil and gas… Read more »