Light Shines For Kenyan Dad Caught Smuggling Baby Out of Hospital
Boniface Murage Wangechi has been given a suspended three-month sentence after pleading guilty to attempting to smuggle his new-born baby from Kenyatta National Hospital to avoid paying a U.S.$560 bill. A well-wisher settled the bill for the 22-year-old father, while Nairobi Governor Mike Sonko, offered him a job at the city's environment department.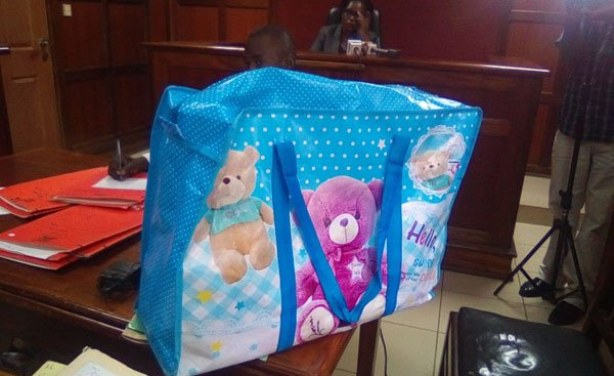 Benson Murage tried to smuggle his one-month-old baby from Kenyatta National Hospital using the bag pictured above.
Kenya: Sonko Offers Murage Job After Court Frees Him Over KNH Bill Saga

Capital FM, 19 February 2019

Nairobi Governor Mike Sonko on Tuesday offered a job opportunity to Boniface Murage, the man who was arrested trying to smuggle his child from Kenyatta National Hospital over a… Read more »

Kenya: Court Sets Free Man Who Tried to Dodge Child's KNH Bill

Nation, 19 February 2019

A man who was arrested trying to smuggle his baby from Kenyatta National Hospital (KNH) to avoid paying a Sh56,000 bill has been set free. Read more »

Kenya: Court Lenient to Poor Dad Who Tried to Smuggle Daughter Over Sh56,000 KNH Bill

Nairobi News, 19 February 2019

The court on Tuesday morning set free a man who had been accused of trying to smuggle his baby out of Kenyatta National Hospital (KNH). Read more »

Kenya: Well-Wisher Pays Sh56,000 Bill for Father Who Tried to Smuggle Baby From KNH

Capital FM, 19 February 2019

A well-wisher has settled the Sh56,000 bill for a 22-year-old man accused of trying to smuggle his new-born baby from the Kenyatta National Hospital. Read more »

Kenya: Poor Dad in Court for Attempt to Sneak Daughter Out of Knh in Bag

Nairobi News, 18 February 2019

A 22 year-old-man who zipped up his one year-old daughter in a bag and attempted to smuggle her out of Kenyatta National Hospital (KNH) has been charged. Read more »

Kenya: Father Admits Trying to Smuggle Baby From KNH to Dodge Bill

Capital FM, 18 February 2019

A 22-year-old father accused of smuggling his month-old baby from the Kenyatta National Hospital in an attempt to avoid paying a Sh56,000 bill has pleaded guilty to the offence. Read more »