130 People Killed In Kaduna State - Nigerian Governor
Kaduna State Governor Nasir El-Rufai has alleged that the attack was a deliberate plan to "wipe out certain communities" in the State. El-Rufai told reporters that the police were still investigating the motives for the attack in Kajuru local government area.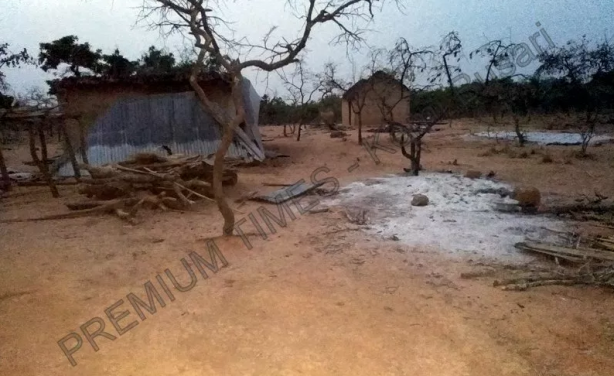 Destroyed homes in Kajuru, Kaduna.
Nigeria: Plan to 'Wipe Out' Some Kaduna Communities - Governor El-Rufai

Premium Times, 19 February 2019

The Kaduna State governor, Nasir El-Rufai, has alleged a plan to wipe out some communities in the state. Read more »

Nigeria: Death Toll in Kajuru Killings Now 130 - El-Rufai

Daily Trust, 20 February 2019

Governor Nasir El- Rufai of Kaduna State yesterday said that it was 130 persons that were killed in villages in Kajuru local government area of the state, and not 66 he previously… Read more »

Nigeria: El-Rufai - 130, Not 66 Killed in Kaduna

This Day, 20 February 2019

Kaduna State Governor, Nasir el-Rufai, yesterday in Abuja said contrary to the earlier figure of 66 Fulani that he said were killed in Kajuru Local Government Area (LGA) of the… Read more »

Nigeria: Death Toll in Kaduna Killing Rises to 130

Guardian, 19 February 2019

Kaduna state governor Nasir El- Rufai on Tuesday said about 130 persons died in Kajuru villages attack and not 60 as he previously announced. Read more »

Nigeria: Kajuru Killings - Death Toll Rises to 130, Says El-Rufai

This Day, 19 February 2019

Gov. Nasir el-Rufai of Kaduna state says the death toll as a result of the communal clash in the Kajuru Local Government Area of the state has risen to 130 as against the previous… Read more »

Nigeria: Death Toll in Kajuru Killings Rises to 130 - - El-Rufai

Premium Times, 19 February 2019

The death toll in the recent attacks in Kaduna State has risen to 130, Governor Nasir El-Rufai announced Tuesday. Read more »
InFocus
The Nigerian army has confirmed the killing of 66 people in eight different communities in Kajuru local government area of Kaduna State, but did not give details on the nature of ... Read more »