Mozambique Accused of Gagging Media in Insurgent Region
Human Rights Watch has expressed serious concerns about a wave of arbitrary arrests, including the involvement of the military in interrogations that take place in the absence of lawyers in the country's north. It said that the government has barred various media organizations and correspondents from visiting the province, while the army detained journalists who managed to go there, or police arrested them on bogus charges.
Mozambique: Media Barred From Insurgent Region

HRW, 21 February 2019

Mozambique's state security forces are intimidating, detaining, and prosecuting journalists covering the fighting against an armed Islamist group in the northern province of Cabo… Read more »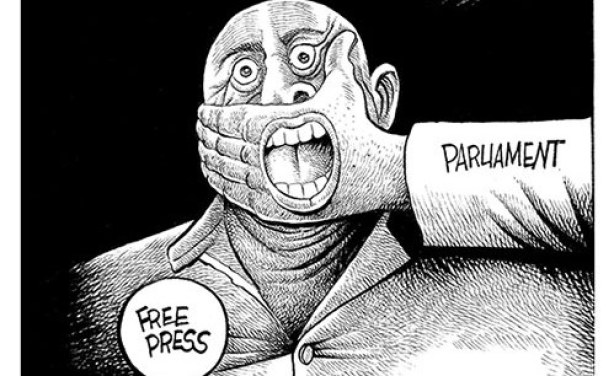 ...
Mozambique: Detained Journalist Was Beaten and Starved

AIM, 1 February 2019

Mozambican journalist Amad Abubacar was beaten and starved while in military detention in the northern province of Cabo Delgado, according to the human rights commission of the… Read more »

Mozambique: Prosecutors Have No Idea How Journalists Work - Misa

AIM, 23 January 2019

The arrest of journalist Amade Abubakar in the northern Mozambican province of Cabo Delgado shows that the bodies of the administration of justice still have no idea of how… Read more »

Mozambique: Journalist Accused of Crimes Against State Security

AIM, 22 January 2019

Mozambican journalist Amade Abubacar, who was held illegally and incommunicado for 11 days in a military barracks in the town of Mueda, in the northern province of Cabo Delgado,… Read more »

Mozambique: Amnesty International Demands Release of Journalist Held In Cabo Delgado

AIM, 9 January 2019

Maputo, 9 Jan (AIM) - The human rights organisation Amnesty International has called on the Mozambican authorities to release "immediately and unconditionally" journalist Amade… Read more »

Mozambique: Cabo Delgado Journalist Still Detained

Mozambique News Reports And Clippings, 9 January 2019

Security analyst Sam Ratner writes in Zitamar today: Read more »
InFocus
Mozambican police are holding three Ugandans suspected of being members of a terrorist group executing attacks in Cabo Delgabo. The province is expected to become the centre of a ... Read more »