Nigeria Records 37 New Cases of Lassa Fever
The Nigeria Centre for Disease Control has confirmed 37 new cases of Lassa fever recorded between February 4 and February 10. Lassa fever is a haemorraghic disease caused by urine and faeces of rats. Lassa fever is treatable if diagnosed early, and Nigerians are advised to visit health facilities when sick.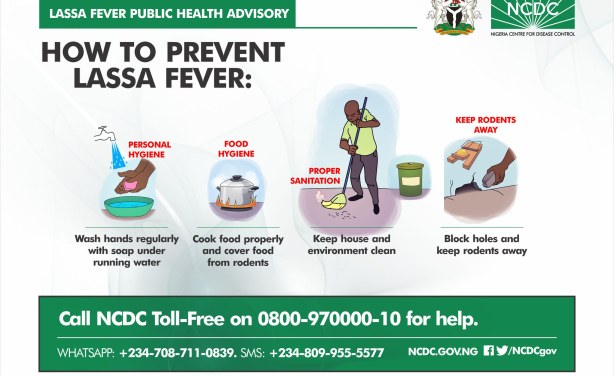 Lassa fever public health advisory.
Nigeria: Nigeria Records 37 New Lassa Fever Cases As Death Toll Rises

Premium Times, 21 February 2019

The Nigeria Centre for Disease Control (NCDC) on Wednesday confirmed 37 new cases of Lassa fever recorded between February 4 and February 10. Read more »

Nigeria: Lassa Fever - Ebonyi Records Three Deaths, Treats 14 Patients

Premium Times, 18 February 2019

The virology centre at the Federal Teaching Hospital, Abakaliki (FETHA) has treated and discharged 14 Lassa fever patients so far this year. Read more »

Nigeria: Lassa Fever - 10 Killed, 28 New Cases Confirmed in Plateau

Daily Trust, 21 February 2019

Dr Kunden Deyin, the Plateau Commissioner for Health says the state has recorded 28 new cases of Lassa fever with 10 deaths. Read more »

Nigeria: Rats Fever Kills Over 40 in Nigeria

CAJ News, 12 February 2019

At least 42 people have died in the worst outbreak of Lassa fever to hit Nigeria. Read more »

Nigeria: Lassa Fever Kills 14, Infects 68 in 13 States

Guardian, 11 February 2019

The Nigeria Centre for Disease Control (NCDC) yesterday confirmed 68 new Lassa fever cases, 14 deaths in 13 states and 77 suspected cases of yellow fever this year. Read more »

West Africa: Lassa Fever - WHO Increases Response in Nigeria, Four Other West African Countries

Premium Times, 8 February 2019

With five West African countries reporting outbreaks of Lassa fever, the World Health Organisation (WHO) has scaled up its efforts to support the region's response. Read more »
InFocus
The Nigeria Centre for Disease Control says Nigerians need not panic over the rising cases of Lassa fever as it has initiated measures in response to the disease in the country. At ... Read more »